Vegetarian Casserole
Vegetarian casserole is the perfect thing to bring to a pot-luck when you aren't sure there will be many veggie options for you. It's also great to bake for a side-dish that you can keep for warm, home-made leftovers later in the week. And it's the perfect prepare-ahead-of-time recipe for those crazy busy holiday meals.
You have to admit casseroles have become a little un-sexy in the culinary world. It seems like every 50's housewife found it a good idea to mix 5 processed and pre-packaged ingredients into a glass dish and call it homemade. (Really and truly, I mean no offense.)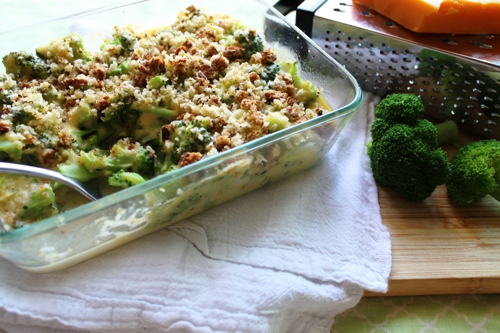 The popular casseroles that used Campbell's cream of x,y, or z soups, cheap meats and over cooked vegetables really turned me off of this whole genre when I was a kid.
I'm happy to say I've ventured back into the realm of these one-dish babies and have liked the results a lot better when it's done in a more modern way. When they are fresher, healthier and vegetarian, casseroles are actually quite delightful.
I've opened up my heart to these versatile dishes and they make a great reliable recipe when cooking for a crowd.
Try this broccoli and cheese casserole when you want something reminiscent of comfort food while still getting a serving or two of your greens.
Broccoli and Cheese Casserole
Ingredients
2 bunches broccoli, cut into florets
4 tablespoons of butter
3 ½ tablespoons of flour
1 cup of milk
1 cup extra sharp cheese, shredded
½ cup bread crumbs
Olive oil for drizzling
Salt and pepper to taste
Directions
Preheat oven to 350°
Parboil broccoli: Chop broccoli into small pieces. Put into boiling water and let cook for 1 -2 minutes only (take out when they are bright green!) Drain and rinse in really cold water until they are cool so they don't continue to cook.
In a sauce pan on low heat, melt butter, add the flour and stir until a consistent texture. It should start to smell slightly nutty.
Slowly pour in the milk and stir. Season with salt and pepper. Fold in the sharp cheese and allow to get all melty and delicious.
In small bowl, toss bread crumbs in a drizzling of olive oil.
Lightly grease a casserole dish, layer your broccoli evenly, pour the cheesy sauce over top then sprinkle with breadcrumbs.
Bake for 30 minutes or until the breadcrumbs are golden brown and cheese starts to bubble.
I hope you enjoyed this vegetarian casserole and begin to experience the joys these one-dish meals can be!
---
You might also enjoy:
---
---
---