Vegetarian Crockpot Recipes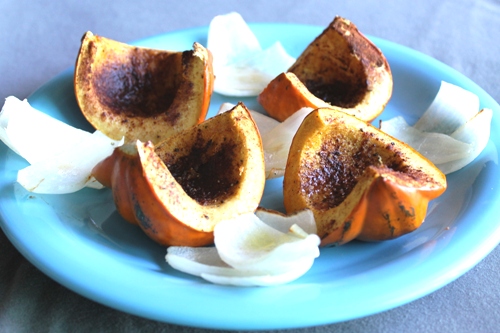 What a wonderful invention the slow cooker was! Here are 3 vegetarian crockpot recipes to accompany that lovely kitchen appliance. There are so many days when I don't really have time to think long and hard about cooking a great meal, but that doesn't mean I want to give up my quest for eating a great meal. :P
The crockpot is the answer. It's a super easy, time-and-money saving tool that will help you out on days when you want to push a button and forget about the rest. With these vegetarian crockpot recipes you really can have your cake and eat it too.
Crockpots can be used easily for soups, sauces, main dishes and even desserts. Here we'll see it used for a main dish (acorn squash), a snack or side dish (apple sauce) and a useful ingredient into other dishes (chickpeas). 
Crockpot Squash
This crockpot squash recipe is a super simple way to cook those hearty vegetables so omnipresent in the fall and winter months. It will work with nearly any squash (even pumpkin!) and you can change up the spices if you prefer the sweeter cinnamony flavor.
Ingredients
1 squash (acorn or butternut squash work well), seeded and quartered
1 large white onion, sliced into large petals
Olive oil
1 teaspoon cumin
½ teaspoon coriander
½ teaspoon garlic powder
½ teaspoon paprika
¼ teaspoon ginger
cayenne to taste
salt and pepper to taste
Directions
Mix all the spices in a small bowl. Brush the flesh of the squash with olive oil then rub each piece with the spice mixture. Place squash next to one another (not on top of each other) in crockpot, put onion petals around the squash and cook on high setting for about 2 hours. Squash should be fork tender when done.
---
Crockpot Applesauce
Homemade applesauce is a staple of the best at home chefs. It's so inviting and yummy when the weather starts to change and when you make it in your crockpot it couldn't be easier!
Applesauce is also very handy to have around to add to vegan baking pursuits. Even if you're just trying to decrease the dairy a little bit in your cake recipes, applesauce is the best healthy replacement there is as it brings extra moistness.
Ingredients
4 apples, peeled and cored
½ cup of water
1 tablespoon honey or brown sugar (optional)
1 ½ teaspoons vanilla
1 ½ teaspoons cinnamon
dash of salt and nutmeg
juice from half a lemon
Directions
Cook all ingredients on low setting on crockpot for about 5 hours. When done, mash the apples and you're left with delicious homemade applesauce.
---
Crockpot Chickpeas
While cooking dried chickpeas isn't a vegetarian crockpot recipe per se, it is definitely a great trick to have up your sleeve. I don't know about you but I always want to use beans in recipes, and know that if I go the extra mile and prepare them from the dried state it always turns out way better. However, I often seem to be too lazy to actually do it (or don't plan far enough ahead). This is the best compromise I've come up with so far.
Rinse your dried chickpeas before cooking and pick out any bad apples. For every 2 cups dried chickpeas (i.e. 1 bag), use 6 cups of water. Add a pinch of salt and cook in crockpot on high for at least 4 hours. Drain and rinse when done because there will still be water left over. Then you have chickpeas that are a lot better, crunchier and less mealy than their canned cousins! To me this is a lot more manageable than letting them soak over night then boiling them for eons.
---
---
---