Vegetable Soup Recipe
This vegetable soup recipe is sure to warm your spirits from the inside out! It's a nice change from getting your veggies from salads or side dishes and is perfect for a warming but light lunch. Average veggie soups take the easy way out and mask the natural flavors of the vegetables with chicken stock, salt and more salt.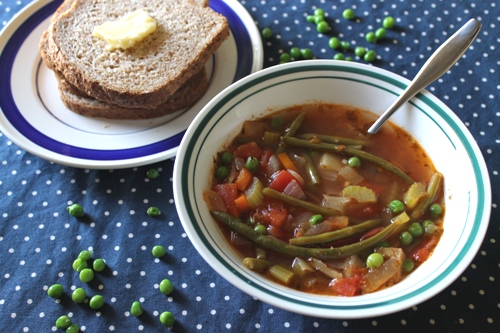 This recipe uses a few spices to enhance the flavors of the vegetables and it's wonderfully versatile depending on what season it is or what produce you have in the fridge. Almost any produce works fine here so you can either use this recipe as is or more as a guideline. It's up to you, but the choices are endless and don't be afraid to experiment a little. How wrong can you go by boiling some vegetables? You can also add in beans, noodles, lentils, etc. to make a more complete vegetarian meal.
Another way to change the flavor from your standard vegetable soup recipe is to roast the vegetables first. Cut up what you're using into evenly sized pieces, heat the oven to 400°, toss all your veggies in a little olive oil and spread out on a cookie sheet. Roast them for about 20 minutes checking them and flipping them about half way through. This way when you add them to your vegetable stock they'll have the added dimension of being slightly charred and caramelized. This method takes a little extra time but works beautifully for winter produce to make a heartier vegetable soup recipe.
Ingredients
2 carrots, chopped or shredded
2 celery stocks, chopped
1 large onion, diced
1 cup peas
1 potato diced into ½ inch pieces
1 can diced tomatoes
1 ½ cup green beans
2 quarts of vegetable stock
4 cloves garlic, minced
½ tablespoon oregano

¼

teaspoon cayenne (less if you're sensitive to heat)
½ teaspoon smoked paprika (you can sub regular paprika if that's what you have)
Pinch of cumin
Zest from lemon
3 tablespoons olive oil
Salt and pepper to taste
Directions
Put large soup pot on med-high heat, after 1 or 2 minutes, add olive oil, onions and garlic. Cook onions until translucent, about 6 or 7 minutes.
Add carrots, celery, potatoes and green beans and cook for another 4 or 5 minutes. Add can of diced tomatoes, add spices, stir.
Pour in stock then bring to a boil. Turn down heat to low and let simmer for 30 minutes.
After 30 minutes add peas and lemon zest then serve! (You can garnish with some parmesan, serve with toast or crackers or just eat it plain and simple!)
---
You might also enjoy:
---
---
---