Dad's Favorite Tomato Soup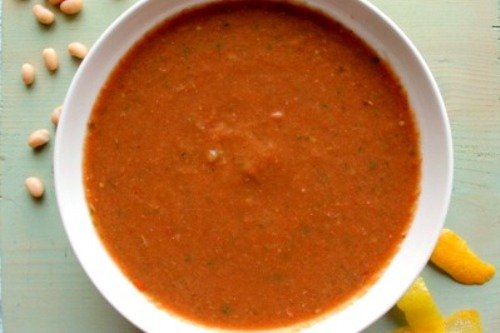 Tomato soup is quickly climbing the rungs of the ladder to my heart. It's creamy, delicious and wholesome. This recipe packs in the nutrients with a couple curve-balls to make a truly unique meal. I came up with this recipe after several occasions of ordering this classic and comforting soup in a restaurant only to be disappointed. More often than not I feel like I'm being served a warm bowl of pasta sauce--not really something to get excited about.
This tomato soup is something to get excited about though. It has your regulars like garlic, basil and lots of tomatoes, plus some new guests to the party. Check out the ingredient list and get started on your better-than-a-restaurant, definitely-not-pasta-sauce tomato soup today!
Ingredients
1 large white onion, diced
3 large, fresh tomatoes; diced
3 15 oz. cans diced tomatoes with juice
2 cups leafy greens, either chard or spinach
6 cups vegetable stock or water if you don't have it
2 cups plain yogurt
2 tablespoons olive oil
4 tablespoons balsamic vinegar
handful of fresh basil
zest from 1 lemon
juice from ½ a lemon
5 garlic cloves, minced
1 tablespoon oregano
½ tablespoon paprika
½ tablespoon thyme
salt & pepper to taste
Optional: ½ teaspoon cayenne if you like some heat
Optional: 1-2 cans white northern beans
Note: if you're not using stock, add a little extra salt
Directions
Put soup pot (at least 5 qt.) on stove and turn burner to med-high heat. After pot has been heating up for 2 minutes add olive oil and diced onion. Allow onions to turn translucent
Add the following:

leafy greens
balsamic vinegar
diced fresh tomatoes
3 cans diced tomatoes including juice
let sit for about 7 minutes until tomatoes have cooked down and liquid is mixed together

Add 6 cups stock or water, stir then remove 1 cup of liquid to set aside and cool
Add garlic, basil, lemon juice, and spices to pot. Bring to rumbling boil and let it simmer for 15 minutes.
In the meantime, once the liquid you set aside is room temperature (you can put it in the refrigerator to quicken cooling), slowly whisk into yogurt in a large bowl, adding only a little at a time to avoid curdling.
Turn off heat and let pot of soup cool for another 10-15 minutes
Slowly add in yogurt mixture, stirring soup as you go to avoid curdling
Add in beans if using. Use immersion blender or food processor to make soup smooth. Top off with lemon zest and voila!
You might also enjoy:
---
---
---