Winter Salad Recipe: a great, healthy way to start your holiday meal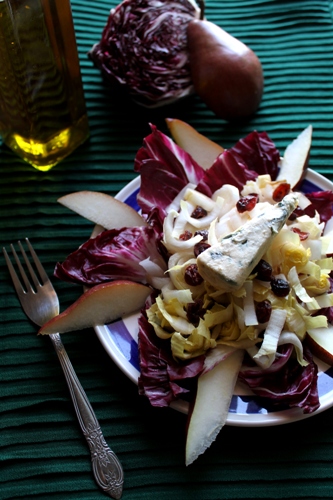 A salad may not be the first thing that comes to your mind when preparing your holiday menu but give this winter salad recipe a try and you won't regret it.
I don't know about you but I always simultaneously look forward to and dread the decadence of the holiday season. I anticipate the scrumptious treats, the excuse to make and then quickly consume super rich dishes. Sooner or later though I dread that overly full feeling, the sluggishness that ensues and of course the mandatory loosening of the belt.
With a few tweaks to your holiday table you can make sure you get at least a few good ol' nutrients in ya before overdoing it on the cookies and cakes. This winter salad recipe is the perfect way to start your meal. It's full of flavor--tart, tangy and sweet. It's good for you and totally in season!
Belgian endive and radicchio both come from the chicory family. Endive is a great source of vitamin K, A, C and folate and both provide the dietary fiber your body craves during this time of year. These leafy vegetables are both fairly bitter (in a good way) and radicchio even has a few spicy notes. The belgian endive is milder than other types of endive which balances out the strong flavors in this winter salad recipe nicely.
These tart veggies pair beautifully with the sweetness of the dried fruit and fresh pear. The blue cheese crumbles bring a new bold element to the party and it's all tied together with a basic vinaigrette.
Winter Salad Recipe
Ingredients
2-3 Belgian endive heads
1 radicchio head
1 pear
blue cheese crumbles
dried pomegranates or cranberries
Directions
Wash and chop the endive and radicchio and spin dry in a salad spinner. (If you don't have a salad spinner toss in a clean kitchen towel. Removing the moisture helps the greens stay fresh and crunchy and helps the dressing adhere.)
Wash and core your pear. It's up to you how fancy you want the pear to look on you winter salad. It would look nice cut into thin cross-sections but a simple utilitarian chop does the job as well.
Toss your leafy vegetables in the vinaigrette (recipe below) then sprinkle on pear, blue cheese crumbles and dried pomegranates.
Winter Salad Dressing Recipe
¼ cup extra virgin olive oil
4 T balsamic vinegar
1 T agave nectar (can substitute maple syrup or honey)
salt & pepper
Mix all ingredients together in a small food processor or whisk together in a bowl.
---
Enjoy this winter salad recipe before you indulge with your other holiday pleasures and your body will thank you! It's exactly what you need in the long winter months and the red and green appearance has the added benefit of matching your Christmas decor. :)
---
---
---