White Bean Olive Tapenade Crostini
Cooking for people has long been one of my favorite ways of showing affection, especially for people who are too busy to make things themselves or don't know that healthy food can taste indulgent. That surprise, that enjoyment, that "this is vegan?!". I love it.
When I know the way to someone's heart, it's fun finding new ways to surprise them. The two ways to my mom's heart are chocolate and olives. Preferably not together. She was definitely thrilled when she came home to these white bean olive tapenade crostini. She said, "Oh yay! Olives are my favorite!" I know, Mom. I know. If you have an olive lover in your life, give these a try. They're addictive. Even Evan who's kind of hot and cold about olives couldn't keep his hands off them.
I think a lot of us fall into routines, buying and making the same things over again. It's not that there isn't a vast catalog of easy-enough recipes out there, or that my mom has never had olive tapenade before. Trust me she has. It's just that it might not be on her radar as something she could make for herself. 
My parents are in the process of downsizing from the childhood house I grew up in to a smaller place with a shorter commute. I'm so proud of them and excited for the new leaf they're turning over. As many of us have experienced, moving makes even the most determined at-home-chefs too time crunched to prepare a full-blown meal. 
While we're in Nashville visiting them I've been trying to help out as much as possible making them homemade dinners, but I also wanted to make this for them as a recipe they could easily repeat once I'm gone and they need some fast finger foods during the mid-move mayhem. 
These white bean olive tapenade crostinis would also be great for any party, event or snack time. Olives have a very strong flavor so piling the tapenade on top of a creamy white bean spread and a crunchy crostini really balances out that boldness of the olives.
I really loved how this little appetizer turned out. Everyone in the house kept walking through the kitchen, grabbing one here and there and before we knew it they were all gone. I had to quickly snap some pictures before I was left with just crumbs!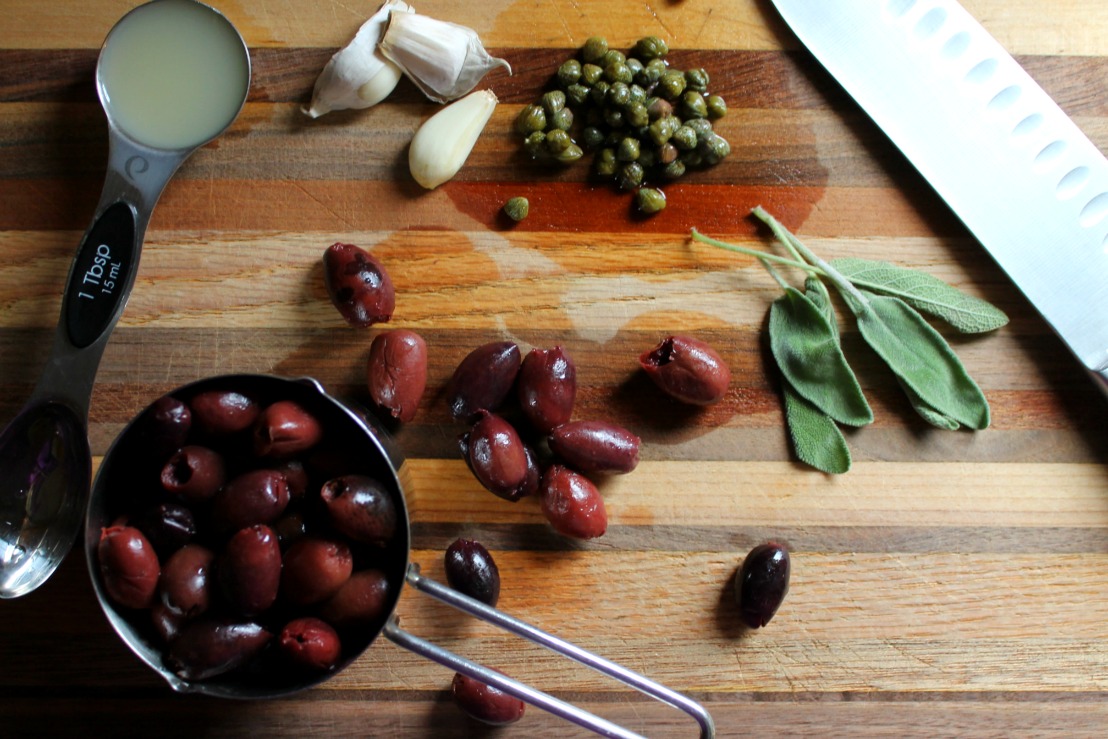 The tapenade has pretty simple ingredients. Olives, clearly, some garlic and capers, a little lemon juice and sage. 
Sage is so beautiful. Those soft green, purpley, fuzzy leaves are too cute. If you don't have fresh sage you could substitute it for 1.5 tsp dried sage, or oregano, thyme or even parsley. I like that it adds to the Mediterranean feel of this spread. If you like the flavor, you could get away with using more too.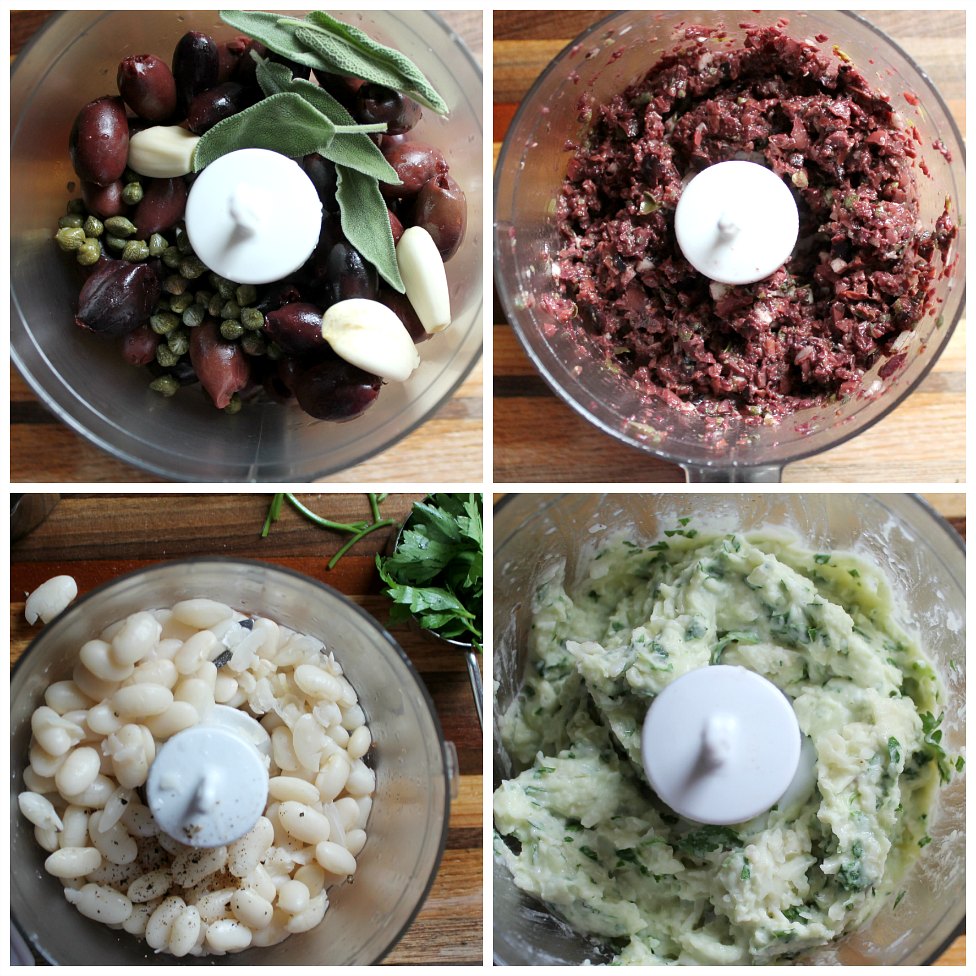 If you don't have a food processor you could chop everything by hand. Finely mince the olives, capers, garlic and sage, in a bowl stir together with lemon juice. In a separate bowl, mash the white beans, stir in chopped parsley leaves and a little olive oil. The consistencies might be a little less uniform but just call it rustic and no one will be the wiser. 
On the other hand if you do have a food processor, life is a lot easier. ;)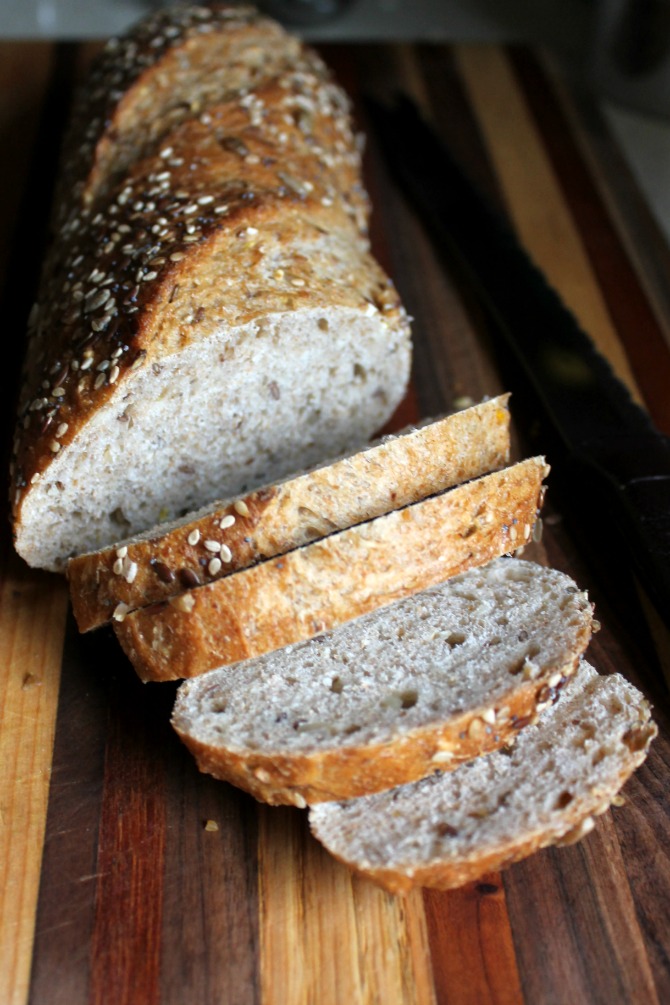 Nearly any bread will do. This is a whole-grain, seedy baguette. White bread is the most common for making crostinis but I prefer something a little heartier, especially since the olives have a strong flavor and don't mind having some tough back-up dancers.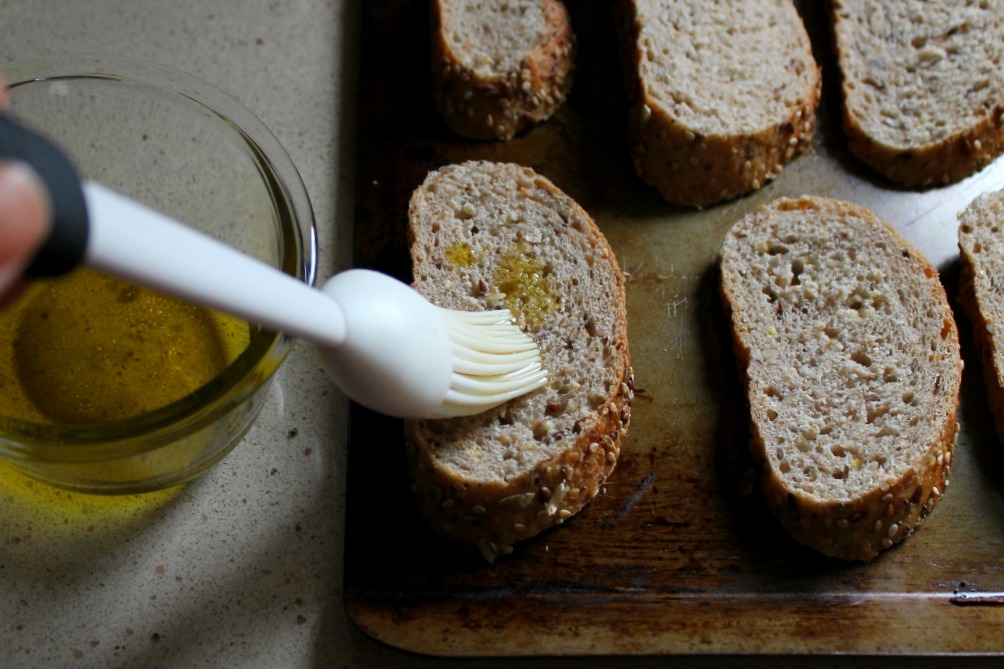 Dip, rub, brush, drizzle. Whatever your preference, take about 1 tablespoon of olive oil and coat the tops of about 18 little pieces of bread. Broil for just a couple minutes (don't be like me) until it's crunchy and golden brown.
I just can't seem to learn my lesson with broilers. I inevitably get distracted and upon smelling some smoke think, "well that escalated quickly". Luckily I like little burnt edges. Maybe it's a coping mechanism.
Once the crostini is out of the oven, spread the fluffy white bean mixture on, dollop on a healthy amount of olive tapenade. Sprinkle with parsley. Or don't. Stuff your face in delight. 
---
White Bean Olive Tapenade Crostini
Yeild: Makes 18-20 crostini
Ingredients
1 whole grain baguette, or bread of choice
1 1/4 cups kalamata olives, pitted
3 garlic cloves
1 Tbsp capers
1 Tbsp lemon juice
1 Tbsp fresh sage, or 1.5 tsp dried
1 cup white beans (like Great Northern)
1/4 cup fresh parsley + more for garnish
2 Tbsp olive oil, separated
Directions
Set oven to broil mode. While that is heating up, prepare the spreads. Add olives, garlic, capers, lemon juice and sage to food processor. Pulse until uniformly chopped; don't process into smooth paste, it should be left a little chunky. Transfer to bowl and set aside. Wipe clean the food processor then add white beans, parsley and 1 tablespoon olive oil. Process until smooth. Transfer to bowl and set aside. 
Slice baguette or bread of choice into 18 pieces about half-inch thick. Use 1 tablsepoon of olive oil to brush the tops of each piece. Arrange in single layer on baking sheet and place under broiler for about 2 minutes. Keep an eye on it, when the bread turns golden brown remove. 
To serve, spread on white bean mixture, spoon the olive tapenade on top, then sprinkle with fresh parsley, if desired.
---
---
---