Vegetarian Stuffing
I know vegetarian stuffing may sound like an oxymoron because stuffing is a mixture that is cooked in poultry. These days stuffing is actually more often made outside the traditional bird.
I know, I know, the next thing you're going to say is that if it's cooked outside the bird then it's called dressing. Well 'round these parts we call any stuffing-like dish stuffing and this just so happens to be my vegetarian version of the cult classic thus I'm calling it vegetarian stuffing.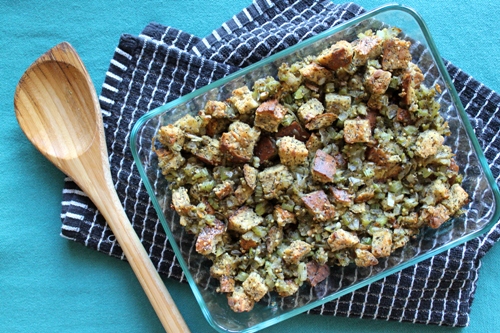 And this is a very special recipe to me because it's been in the family for a while. It was originally my Mom's grandfather's recipe and he was a very good cook. Then my Dad, also a good cook, modified it over the years so this is a tried and true family classic.
Now that we got that out of the way, let's cover one more controversial thing about this recipe: it's made in the crock pot. Hope you were sitting down for that one because it's almost blasphemous to not make stuffing in the oven but trust me there's a very good reason for it. Two reasons actually.
One, it saves stove-top and oven space and the all-important pots and pans on Thanksgiving Day. Thanksgiving might be one of the few days out of the year you actually feel like your kitchen is pushed to it's limits and this is one trick to be economical about time and space.
Two, like most crock pot recipes, after you've done the upfront labor, your stuffing will cook away almost untouched and unsupervised for hours leaving a deliciously moist and flavorful dish for your Thanksgiving table. It avoids the dried-out fate of so many stuffings that spend their day in the oven.
Vegetarian Stuffing Recipe
Ingredients
2 sticks butter
2 cups chopped onion
2 cups chopped celery
½ cup fresh parsley
12 oz. sliced baby bella mushrooms
1 tablespoon of the following:

dried sage
dried thyme
dried marjoram
dried savory
salt
pepper

½ tablespoon of rosemary and basil
12 cups of dry bread cubes made from 2 loaves of sour dough bread (see below)
2-4 cups of vegetable broth, as needed
2 eggs, beaten
Directions for Making Bread Cubes (2 days in advance)
Slice your 2 loaves of sour dough bread into ½ inch thick slices, then cut your bread slices into ¾ inch cubes.
Lay out your bread cubes on a cookie sheet or lasagna dish and leave out to dry for several days.
Directions for Making Vegetarian Stuffing (4-8 hours in advance)
Melt butter in a skillet over medium heat. Cook the onion, celery, mushrooms and parsley until translucent. Add spices and mix until coated.
Put bread cubes in the crock pot and spoon the cooked veggies on top. Gently mix.
Pour 2 cups of vegetable broth on top, then pour beaten eggs in and gently mix again.
Cover, and cook on high for 45 minutes then turn to low for 4-8 hours. Check on the stuffing every couple hours to mix it. If it's starting to look too dry, add more vegetable broth.
---
---
---