Vegetarian Stuffed Peppers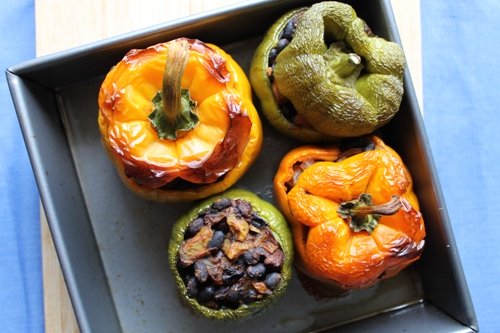 Vegetarian stuffed peppers are one of those rare comfort foods that's actually good for you. By seasoning lots of heart healthy beans, brown rice and veggies then stuffing them all into another vegetable, you're left with one filling, nutritious meal that stores well and goes down easy. The best part is that aside from the peppers, you probably have most of these ingredients in your pantry already making this the perfect week night meal.
This meal is also super simple to make. It takes just a few minutes to prepare the stuffing then you can pop them in the oven and can go about your business for 45 minutes. I love recipes that meet all my priorities of staying healthy, a meal that's quick and easy to prepare and one that will satisfy many different ages and preferences. This recipe for vegetarian stuffed peppers hits the mark for all of those. Hope you enjoy it too!
Vegetarian Stuffed Peppers Recipe
Ingredients


4 bell peppers, tops cut off and cleaned out
1 large onion, diced
4 garlic cloves, minced
1 cup chopped button mushrooms
2 cups or 1 can black beans, rinsed and drained
1 cup cooked brown rice
1 cup shredded cheddar cheese (sub 2 diced avocados if vegan)
2 cups tomato sauce
Spices: 1 tablespoon chili powder and cumin, ½ tablespoon oregano and salt and pepper
Directions
Preheat oven to 400°
Saute onions, mushrooms and garlic until golden brown. In large bowl, mix spices, rice, beans, onions, mushrooms, garlic and cheese to create filling.
Stuff each pepper with the filling until full.
Bake in oven for 45 minutes or until the peppers are soft and the insides are gooey and cooked.
Just before peppers are finished baking in the oven, heat up tomato sauce in sauce pan.
When peppers are done, you can either slice in half or serve whole. Ladle tomato sauce over top for a delicious and balanced meal.
Make it low-carb by replacing the cup of rice with either a cup of vegetables or another cup of beans.
Make it vegan by replacing the cheese with 2 diced avocados.
---
You might also enjoy:
---
---
---