Vegetarian Stuffed Mushrooms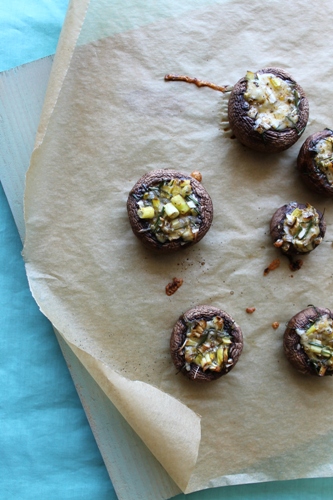 Vegetarian stuffed mushrooms will wow your guests. Their robust flavor is nutty and savory, and with the addition of Parmesan cheese and white wine these little forest floor natives will shine on your buffet line.
Everyone knows how difficult it is to eat healthfully at parties but stuffed mushroom caps are a tasty delight that you won't feel guilty about. And hey, if you can help your friends get their 10-12 recommended servings of fruits/vegetables then you'll be the best host on the planet.
Before you whip up a batch or two of these cute button mushrooms read these 5 tips about them!
Mushroom Factoids
Crimini mushrooms (also called button mushrooms and baby bella's) provide the best anti-inflamatory effects out of all the other mushrooms, so munch away!
As a vegetarian you may be familiar with Vitamin B12. It's the one that was previously thought to only occur in animal meat but some exciting new studies have found that it's possible to receive this vital vitamin from crimini mushrooms! The levels varied a lot between farms and growing conditions but it's still a very significant reason to increase your consumption of these delicious little brown buddies.
Make sure you store your mushrooms in the refrigerator. Storing them at room-temperature can degrade their phytonutrient benefits.
If your worried about upping your vitamin D levels, eating dried mushrooms could be an excellent trick to have up your sleeve. Mushrooms get dried and dehydrated by laying out in the sun. In the meantime they soak up this crucial vitamin so when you rehydrate them to add to your favorite recipes, you are actually increasing the amount of vitamin D in the meal!
Last but not least, wash mushrooms delicately and only right before use. Water can make them slimy and discolored.
Vegetarian Stuffed Mushrooms
Ingredients
20 crimini mushrooms (2 inch diameter), stems removed but kept
4 shallots, sliced thinly
½ cup of coarsely grated parmesan cheese
¼ cup dry white wine
2 cloves garlic, minced
½ stick of butter
¼ teaspoon cayenne
½ teaspoon dried thyme
½ teaspoon dried sage
salt and pepper to taste
¼ cup fresh parsley if available, chopped
Directions
Preheat oven to 400°
Finely chop the mushroom stems
In hot skillet melt the butter then saute the shallots until golden. Add garlic, chopped mushroom stems, and white wine. Allow the wine to cook off for a few minutes. When done transfer to bowl and let cool.
Add the sage, cayenne, thyme, parsley, salt and pepper and half the parmesan to the vegetable mixture.
On lightly oiled cookie sheet arrange the mushrooms, filling cavity with the stuffing from the bowl.
Top each mushroom cap with the remaining parmesan cheese then put in the oven for 20 minutes or until browned, bubbly and done.
---
---
---