Vegetarian Sandwiches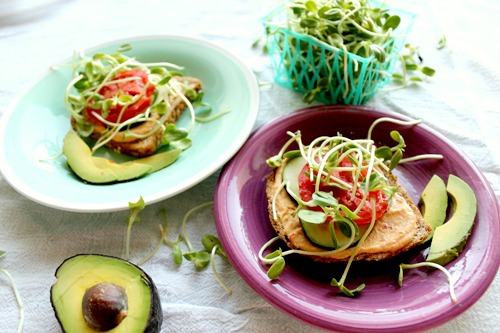 I must say that with the wide array of restaurants, food trucks and cafes these days, it's really not too hard to find some good vegetarian grub. The one little eety bitty piece of a pebble in my shoe though, is that most standard joints offer one vegetarian sandwich. And, guess what. It's a little old now.
While I do love me some portobello-spinach-red pepper-mozarella-ness (you know...that sandwich) I just don't want it every dang day. So alas, in my kitchen we make these crazy concoctions also known as yumtastic vegetarian sandwiches. Not overplayed ones.
Lunchtime is a sacred place. It's a break from the hectic frenetics, it's an escape from the crazies. It's a time to be by yourself and breath, or gab with a special one. So let that serenity take place over something exciting and fresh and not over something so been-there-done-that.
Quick and Easy (the one in ze picture)
2 slices of whole grain bread (I used Ezekial)
Roasted red pepper hummus
Sunflower sprouts
Sliced cucumber
Tomato
Avocado
This simple, easy but oh-so-yummy healthy, open-faced sandwich (was that enough adjectives for you?) is one of my staples. It makes a great light lunch or even a quick, wholesome snack in between meals. Layer the ingredients as show in the pictures and nom away!
The Grown Up Grilled Cheese
There's something so nostalgic about the classic grilled cheese. American cheese melted on white bread with margarine spread on each side...and by nostalgic I mean a little sickening that we used to eat those everyday. It's time to face the facts and admit that it's just not gonna cut it anymore. We don't have to be ruthless because a good grilled cheese is a welcome addition to our vegetarian sandwich routine. Let's just kick it up a notch, shall we?
Pick a bread that will brown well when pan fried i.e. sourdough (everyone has their own preferences with bread, though, so just chose one you know you like)
Brush the tops of both pieces of bread with olive oil or melted butter
On the other side of one of the piece of bread spread some grainy brown mustard
For the main attraction: a mixture of cheddar, parmesan and a little mozzarella is the prize winner (the cheddar is a nice well-rounded base cheese, the parmesan adds some extra sharpness while the mozzarella balances the flavor and makes the sandwich gooey and stringy)
Slice thin rounds of red onion (as much as you desire; leave them out if you don't like onions but to me this really makes the sandwich complete)
Put both pieces of bread into a frying pan with the oiled/buttered side down
Layer the cheeses on one of the pieces of bread
Just when the cheese is starting to melt add the red onion circles on top
Drizzle balsamic vinegar over the cheese and onions
Close your sandwich folding the other piece of bread, which is now nicely browned onto the other and wait until the whole thing becomes cohesive and melty (another 3 or 4 minutes)
And voila! A sophisticated version of a kid class
Note: you can add spinach, tomatoes, red peppers, and anything else you want to graduate it into panini-hood
This action packed, melty piece of goodness showcases the creaminess of the cheese with the acidity found in mustard and balsamic. I've found that without the accompaniment of those tangy flavors sometimes the cheese can get lost in the richness of the bread and butter.
The Garden of Eden Sandwich
Start with 2 pieces of your favorite toasted bread (cracked wheat, sourdough or even a bagel all work perfectly)
Smooth on creamy hummus
Pile on the veggies:Alfalfa sproutsArugulaSliced tomato
Top those off with thinly sliced sharp white cheddar cheese
Lastly, sprinkle on some pickled banana peppers or pepperoncini to add a little bit of a vinegary bite while keeping in line with the fresh veggie profile
Scrunch your stacked sandwich with the top piece of bread and enjoy!
When you're sick of salads, or need to use up some bread before it gets moldy, this vegetarian sandwich is the best go-to for a change of pace while still getting all those wholesome veggies. You even get some protein! Oh, and yumminess, you get that too.
The Beautiful Bagel
In a skillet make a fried egg to your liking
While the egg is cooking, slice and toast your bagel (my favorite for this recipe is an onion bagel)
Spread a light layer of cream cheese on the bottom bagel piece
Dash with salt and pepper
Arrange cucumber slices in a circle on top of the cream cheese
Stack with lettuce and tomato
By now your egg should be done so slide it on top
Squeeze a little lemon juice over the whole thing then top with your other bagel half
Note: it's best to put the lettuce underneath your tomato because once you add the hot egg the lettuce could risk getting wilted and bitter which you want to avoid
You may think the egg and the cream cheese would be too much. I did at first too, but they go strangely well together. This is an unusual combination that changes up your normal fried egg sandwich.
---
I hope you like these out of the ordinary vegetarian sandwiches. If you have a veggie sandwich you know you love but are looking for ways to bring new light to it try these techniques:
Experiment with new types of breads. Depending on what you go for this can really alter the taste and consistency of a sandwich.
Mix in some seasonal veggies to the rotation. I once made the Grown Up Grilled Cheese with a few blanched asparagus spears and it was incredible.
Change the type of spread you're using. You can switch varieties by reaching for a tapenade or jam, or you can simply opt for a different flavor of hummus.
Spices and herbs often get forgotten about in sandwich construction but oregano and basil are both great add-ons.
With these new recipes and techniques to spice things up, you never have to go back to that stale old vegetarian sandwich again!
You might also enjoy:
---
---
---