Vegetarian Salads: Super Tasty Super Foods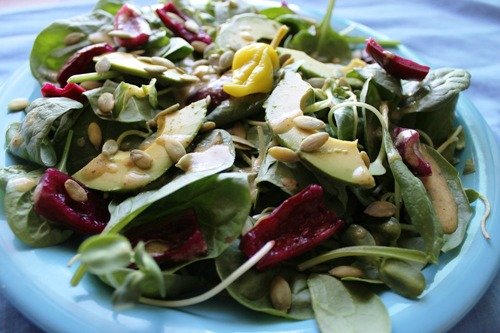 Vegetarian salads are now a lifeblood of my...um, well, life. When I first went veg, ironically, I didn't eat them that often. I think I was filling up on denser cooked dishes but now it's the raw, fresh, whole, untouched, still crunchy veggies that I crave.
I truly hope salads are finally starting to catch on as more peeps get serious about their insides. For a while there, salads had a bad reputation as the thing those kinds of girls ordered on dates or what you resorted to when dieting, as if they're some kind of punishment.
Well I'll be darned! Salads are freaking delicious. They change with the seasons. They change with your mood. There are practically a zillion ways to make them.
And yes, they can be filling. So I know you know how to throw some greens on a plate and splash some dressin' on there but if you're like me, then a salad rut is totally possible. The 6 salads on this page might give you a jumping off point. So let's jump, shall we? Into a big ole vegetarian salad bowl. (My appologies for allowing corniness to get the best of me.)
1 - End of Summer Salad (the one in the mug shot above)
Ingredients
Spinach
Sunflower Sprouts
Cactus fruit
Avocado
Pepitas (pumpkin seeds)
Peperoncini
Herb de Provence (or something similar)
Dressing
2 T Tahini
1 T Grainy mustard
Juice from 1 Lemon
Salt & pepper

⅓

cup Olive oil
Directions
Wash spinach and sunflower sprouts. Toss in dressing. (To make dressing, whisk all ingredients together.) Spread out onto plate.
In a small pan, dry roast the pumpkin seeds by putting over medium heat for 4-5 minutes or until they start to smell toasty. Shake them in the pan every minute or so. Sprinkle Herb de Provence on top.
Cut ends off of cactus fruit, slice in half lengthwise and scoop the hard seeds out. Then cut into little strips. Slice avocado. Lay both on top of your bed of greens.
Sprinkle toasted pumpkin seeds over salad and top with peperoncini. Voila!
2 - Summertime Vegetable Salad
Ingredients
Grape tomatoes, cut in half
Fresh basil
Black olives, take pits out
Feta cheese
Cucumber, sliced
Green beans
Walnuts
Romaine lettuce
Pairs with Citrus Vinaigrette dressing found on my salad dressing recipes page
Directions
Trim and steam green beans (7 minutes) then run under cold water, pat dry
In large bowl mix greens with basil and toss with vinaigrette
Top with tomatoes, olives, cucumber, walnuts and feta
3 - Vegetarian Taco Salad
Ingredients
Beans of your choosing (black or pinto work well)
2 colors of bell peppers
1 white onion sliced
Olive oil
Salsa
Avocado
Shredded cheese
Spices: 2 cloves garlic, ½ tablespoon cumin, salt and pepper, (optional: cayenne)
Red leaf lettuce
Pairs with Cumin Lime dressing found on my salad dressing recipes page
Directions
In hot skillet add olive oil then saute onion, peppers and beans with spices, let cool to room temperature
In large mixing bowl, toss your greens with the cumin lime dressing, or that of your choice
Layer salad any way you want, like making a burrito. Add the onions, beans and peppers, top with cheese, salsa, avocado and anything else you want
4 - Asian Fusion Salad
Ingredients
1 shallot, chopped
Sesame ginger sticks (found near nuts and bulk goods in grocery store)
Radishes, sliced thinly
Bamboo shoots
Bean sprouts
Arugula
Pairs with Soy Ginger dressing found on my salad dressing recipes page
Directions
Toss greens with dressing then assemble the rest by layering ingredients
5 - Roasted Corn & Red Pepper Vegetarian Salad
Ingredients
Corn kernels (at least 2 ears worth)
1 red pepper, juilienned
Olive oil
Spices: 1½ teaspoon paprika, salt and pepper
Pepitas (shelled pumpkin seeds), roasted
Avocado, sliced
Arugula or spinach
Pairs with Cream Mustard Vinaigrette found on my salad dressing recipes page
Directions
Preheat oven to 500° then in bowl toss red pepper and corn with enough olive oil to coat, paprika, salt and pepper
Spread out on cookie sheet and roast for 10 minutes (check on it regularly because the corn kernels can burn easily)
In large bowl toss arugula with dressing
Top with roasted vegetables, avocado and pepitas
6 - Everyday Vegetarian Salad
Ingredients
Dried fruit like cranberries or apricots
Nut or seed like sliced almonds or sunflower seeds
Small tomatoes like cherry or grape, cut in half
Green onions, finely chopped
Chickpeas
Carrots, julienned or thin peels
Parmesan cheese
Leafy greens
Pairs with Basic Vinaigrette found on my salad dressing recipes page
Directions
Toss all the ingredients (except cheese) with salad dressing, top with parmesan and serve
Tips to Make Salads Something You Love to Eat
Get a salad spinner and wash your greens on the weekend. That way you can reach in the fridge and have instant fresh greens whenever you want to make a salad during the week.
Adding nuts or seeds on top of your salad is a super easy way to get extra omega 3s and add some extra texture from the soft leafies.
In the summertime your range of salad toppings grows exponentially. Peach and avocado salad, strawberry and portobello mushroom - mix and match all the varieties of fresh produce and you'll never get tired of eating the same old thing.
Salads aren't just limited to being a summer classic though. Winter brings about its own bounty of salad staples. Try a mixture of cabbage and Swiss chard for some seasonal greens.
Most of all just mix in all the toppings you love, whatever helps you eat those greens will help you be healthier. Leafy greens are probably the number 1 thing most people should eat more of. They're the most super of super foods. Enjoy!
---
---
---