Vegetarian Pizza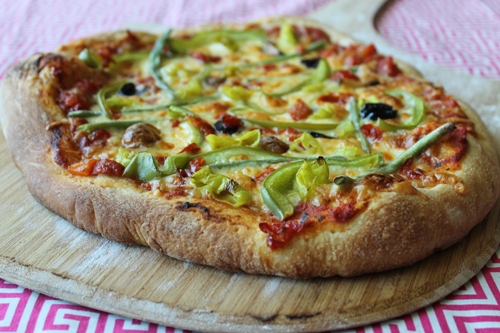 Vegetarian pizza is one of the easiest and best meals to add to your repertoire. When I first became a vegetarian, I had pizza several times a week because it's filling, it's easy to pile on the healthy toppings, and as a brand new vegetarian not in tune with all the various vegetarian protein sources I knew it was safe and had a relatively balanced macronutrient profile. Plus, who doesn't like pizza? Maybe I'm just making excuses and justifying eating so much vegetarian pizza in my day.
Everyone likes their pizza different. The beauty of this meal is that everyone can have it their way! And once you start making vegetarian pizza's at home it becomes more than just dinner time. It's a fun experience that all ages can enjoy. I love making pizzas when guests come over because people can get involved, contribute and share in the fun.
You can make pizza for a crowd or just for one. You can pile high with all the freshest toppings or just go with a quality cheese. You can add in spicy banana peppers (my favorite), sweet dried fruit, make white pizza, pesto pizza, okay you get the point. The variations are endless. Bottom line is that when you're mixing a delicious crispy yet chewy bread with warm tomato sauce, gooey cheese and the toppings of your choosing it's nearly impossible to go wrong.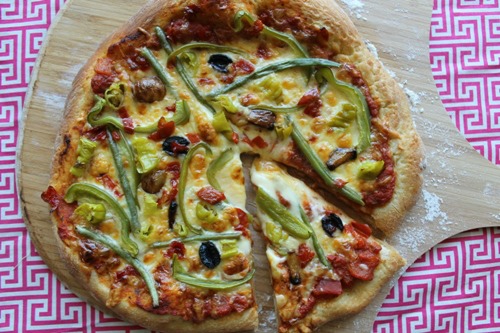 As you can see I'm a huge fan of pizza night. There are varying levels of commitment when making a vegetarian pizza. If you fall in love with this meal it will be worth it to invest in a pizza stone and a couple extra tools that take your pizza up a notch but it's definitely doable to make a great pizza without them. I've also included a pizza dough recipe in case you wanna go the from-scratch route but feel free to buy dough or pre-made crust from your grocery store and start that way.
Because you can kinda guess how to makes a vegetarian pizza: crust, tomato sauce, toppings, heat, I'll spend some time going through the process rather than giving you a recipe per se.
Let's say you start with a ball of pre-made dough. Whether it's store bought or homemade it will have already gone through its first rise. You want to let your dough sit out for its second rise.
How to Make a Vegetarian Pizza
Break dough into the size you want for your pizza. About tennis ball size or slightly smaller will make roughly a 10" crust. Grapefruit to small cantaloupe size will make a large pizza.
Put the dough in a bowl with a sprinkling of flour, cover with a kitchen towel and let sit for at least an hour. This will allow for the dough's second rise.
The dough is now ready to work with. There are several ways to get it into the large circular shape we all know as pizza. You can toss it, roll it, stretch it. Whatever you feel most comfortable with is fine but you'll probably need to use some flour to prevent sticking regardless of how you do it.
Once you have the dough the size you want it, pierce all over with a fork to prevent air bubbles while you bake it.
For a crispy crust you want to use a very hot pizza stone. If you have a pizza stone, put in in your oven on the highest heat it will go and let it get really hot for about 30 minutes before you try to bake your dough. When the stone is hot, put the dough onto the pizza stone to prebake for about 7 minutes. If you don't have a pizza stone, you can still get a crispy crust. Transfer dough to a well-oiled cookie sheet and bake in the over for anywhere between 5-12 minutes. You'll just have to keep an eye on it and see when it's about 80% cooked. You want it to be sturdy enough to place directly on the rack without folding over. So when it's crispy on the bottom but not quite done on top, take it out.
Once you have prebaked dough, brush the edges with olive oil, put your sauce on, cheese and any toppings your heart desires then return it to the oven, either onto the pizza stone or directly on the rack. (Don't overdo the toppings or the crust will absorb the moisture from sauce, cheese and watery vegetables and become soggy.) Watch it the entire time it cooks. Every oven is different but when it's on max heat the pizza will only need a couple minutes for the cheese to melt and the crust to finish cooking. Take it out when the cheese is bubbly and beginning to brown and the crust looks nice and golden.
Homemade Pizza Dough Recipe
Ingredients
4 ½ cups all purpose flour
1 teaspoon instant yeast
1 ½ teaspoons salt
4 tablespoons olive oil
1 ¾ cups ice cold water
Directions
Mix dry ingredients in a large bowl (flour, yeast and salt) then slowly add the oil and ice cold water, mixing until all ingredients are cohesive and even. This takes about 8 minutes. The dough should be elastic and easily come off the sides of the bowl when mixing. If it is too wet, sprinkle some flour.
Separate the dough in 5 or 6 equal balls to be put into individual zip lock bags. Before placing in the bag, roll dough in a little olive oil, seal bag and put in the refrigerator for at least 12 hours and up to 3 days.
You can also freeze the dough and it will keep for a couple months. Transfer to the refrigerator the day before you want to use it.
---
---
---
---