Savory Vegetarian Grilling Recipes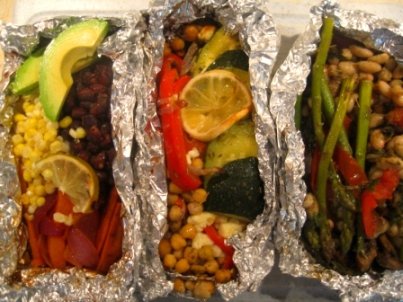 There is a lot of freedom in vegetarian grilling recipes. The basic guidelines are to get a couple different kinds of veggies, some beans and some flavorings, mix them all together in a bowl with some olive oil, wrap them up in aluminum foil then grill 'em!
These grill packets are a wonderful side dish or even alternative to bean burgers and veggie dogs. Their beauty comes from all the different varieties and how dead simple they are to make. Have fun experimenting with new combinations of vegetables and spices. It's pretty hard to go wrong with grilled veggetables because they're so delicious.
Here are 3 different vegetarian grilling recipes to get you started:
1 - Southwestern Black Beans
Ingredients
2 cups pre-cooked black beans (1 can drained and rinsed)
1 sweet potato cut into wedged french fry shape
Corn kernels from 1 ear, off the cob
1 red onion sliced
1 lime
1 avocado for topping
Olive oil
Spices: garlic (real or powdered), salt, pepper, smoked paprika, cumin, cilantro
Serving option: spoon on salsa or hot sauce on top
2 - Mediterranean Chickpeas
Ingredients
2 cups pre-cooked chickpeas (1 can drained and rinsed)
1 zucchini sliced ½ thick on the diagonal
1 red pepper cut into wide strips
2 shallots
1 lemon
Olive Oil
Feta cheese
Spices: oregano, coriander, rosemary, garlic (real or powdered)
Serving option: add some hummus on the side for some extra flavor
3 - Italian White Beans
Ingredients
2 cups pre-cooked white beans (1 can drained and rinsed)
½ bunch of asparagus spears with ends cut off
2 cups spinach
1 large tomato cut into large pieces
Handful of fresh basil
Olive Oil
parmesan cheese for topping
Spices: rosemary, marjoram, thyme, oregano, salt and pepper
Serving option: this is great covered with tomato sauce
Directions for All 3 Vegetarian Grilling Recipes
In large bowl combine vegetables and beans
Drizzle olive oil, enough to coat everything liberally (about 4-5 tablespoons)
Add spices and mix together with hands or spatula until everything is coated evenly
Portion out onto flat sheets of aluminum foil (12"x12" for individual, larger for family style)
Sprinkle topping (cheese, hot sauce, etc.) over vegetable mixture
Pinch together all four sides of aluminum foil and curl under to lock in place (you want it to be a closed packet so that the vegetables will steam when put over heat)
Grilling Method: place packets over med heat for 15-20 minutes
Oven Method: heat to 450° place packets on rack for 20 minutes
Open up and they're ready to eat!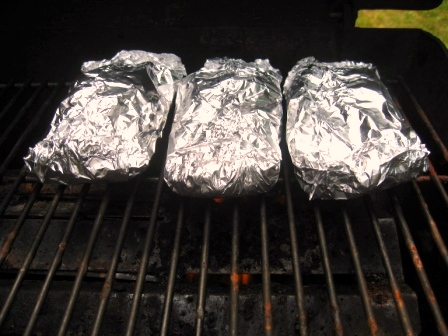 These are great no-fuss vegetarian grilling recipes because you use one bowl to toss all your vegetables and seasonings together then place them on aluminum foil making clean up super easy. The packets are also handy to make ahead of time and take to work for a healthy and delicious lunch. By the way, hearty winter vegetables do great with this technique too. If you're jonesing for some variation in your brown bag during the colder months, just follow the same guidelines but cook them in the oven instead!
You can also vary the portion sizes. Vegetarian grilling recipes can be made family style by using a larger piece of aluminium foil or they can be made into individual portions. If you're going to a cookout or a picnic these are the simplest recipes you can make ahead of time to bring to the party. Just ask the grill master to roast them up once you arrive. Here's to making cook outs and grilling season vegetarian friendly - enjoy!
---
---
---
---