Vegetarian Fajitas
I love vegetarian fajitas because they're healthy but they still taste delicious. They almost seem like one of those indulgent meals you shouldn't be eating all the time, but the truth is, especially if you make vegetarian fajitas at home, you're getting a ton healthy veggies and protein.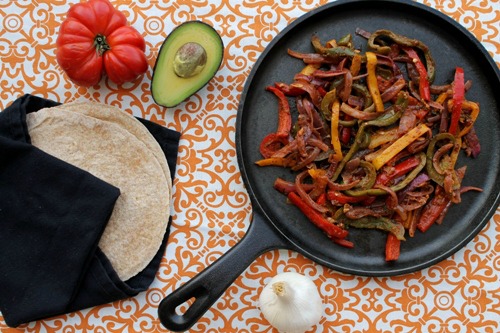 The other great thing about making fajitas at home is that everyone can participate in building their own perfect one. Mixing and matching toppings was always one of my favorite things to do as a kid --it's like a free pass to play with your food! And let's be real, I love it just as much as an adult.
So they're healthy, check. They are fun for the family or guests, check. And they're not too hard to make, check! What more could we ask for? Let's get started making our vegetarian fajitas right now, and don't worry too much about having lots of leftovers because reheated fajitas are great, and you can also easily turn the extras into a fajita salad on day two (another great healthy vegetarian recipe).
Ingredients
1 red onion, sliced
2-3 bell peppers, sliced
6 cloves garlic, minced
juice from

½

a lime
1T red wine vinegar
extra virgin olive oil
1T chili powder
1T cumin
1 T dried oregano
1 tsp cinnamon
1 chipotle pepper in adobo sauce, minced
3 T freshly chopped cilantro
salt and pepper, about 1 tsp each
Tortillas of your choosing
Beans of your choosing, I like refried
Fajita toppings of your choosing, example: avocado, tomatoes, salsa, sour cream, cheddar cheese
Directions
First you will marinate your veggies: put sliced bell peppers and sliced red onion in large bowl. Drizzle with olive oil, lime juice, vinegar, minced garlic, minced chipotle pepper, cilantro and spices. Mix well so that all veggies are evenly coated. Set aside to marinate for 10-15 minutes, stirring occasionally.
Now we are going to cook the veggies: place medium-large skillet over high heat for 1-2 minutes, drizzle bottom with olive oil. Turn heat down to medium then add your veggies, being sure not to over crowd the pan. If necessary, cook them in batches. Let them sit and sear for 1-2 minutes then toss. Repeat this process until done, approximately 6 minutes.
To assemble your vegetarian fajita, spoon some beans, roasted fajita vegetables and any toppings you'd like onto a slightly warmed tortilla.
---
---
---