Vegan Vegetable Korma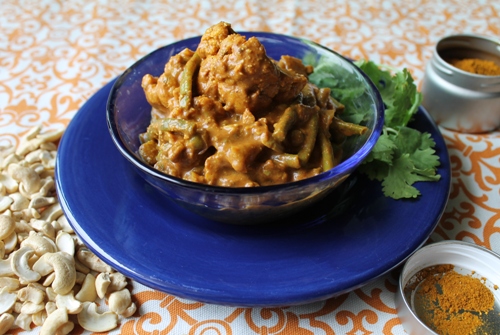 Vegetable korma always makes the short list of favorites when we order at Indian restaurants. It's creamy and delicious with lots of warm spices and full of veggies.
Whenever I tried to recreate this beauty at home though, it never quite turned out right. It was always lacking something I couldn't put my finger on, and I felt bad about dumping a bunch of cream in it to achieve that same richness.
One night I had a eureka moment. I started hastily rummaging through our spice drawer, pantry and fridge. The result is a vegetable korma dish I LOVE and one that just-so-happens to be vegan. I finally found a solid replacement for eating Indian food out so much. This dish now makes the short list of favorites we make at home during the fall and winter.
Vegetable Korma Recipe
Ingredients
mix-in vegetables: peas, carrots, cauliflower, green beans (or any of your choosing)
Oil for sauteeing (canola or coconut work great)
1 inch piece of ginger, minced
6 cloves of garlic, minced
1 red onion, diced
¾ cup vegetable broth
10 oz. unsweetened almond milk (or whole milk, if not vegan)
6 oz. can tomato paste
1 cup of cashews
2 cups of water
1 TB yellow curry powder
¾ TB of garam masala
½ teaspoon nutmeg, turmeric, and cumin
1 jalapeno, chopped
¼ cup chopped fresh cilantro leaves
Directions
Put a large pot on med-high heat, add oil once hot and sautee diced red onion until starting to brown. Stir in the chopped jalapeno, minced garlic and minced ginger. Allow to cook together for 2-3 minutes.
In blender mix cashews and water. Pulse to create quick cashew milk, set aside. Mix all spices, except fresh cilantro, in one bowl and set aside.
Add the vegetable broth to the pot and deglaze bottom, if necessary. Stir in tomato paste until combined, then add cashew milk, almond milk and spice blend. Mix everything together.
Fold in chopped vegetables except for peas. Bring to boil, then turn down to simmer for 30 minutes or until the vegetables are tender. At last minute stir in peas and cilantro leaves, let sit for a minute or 2 then serve!
---
You might also enjoy:
---
---
---