How to be Vegan in Thailand
When Evan and I first started thinking about where we were going to spend a couple months traveling, local cuisine was a high priority for us. Though we suspected we would need to relax our dietetic preferences a little, we still wanted to be in places that were somewhat conducive to eating plant-based, and if not that, then at least vegetarian.
When we're in the U.S., Asian food is a pretty safe-bet for eating out as a vegan. Dishes are always packed with veggies and an amazing array of spices and herbs.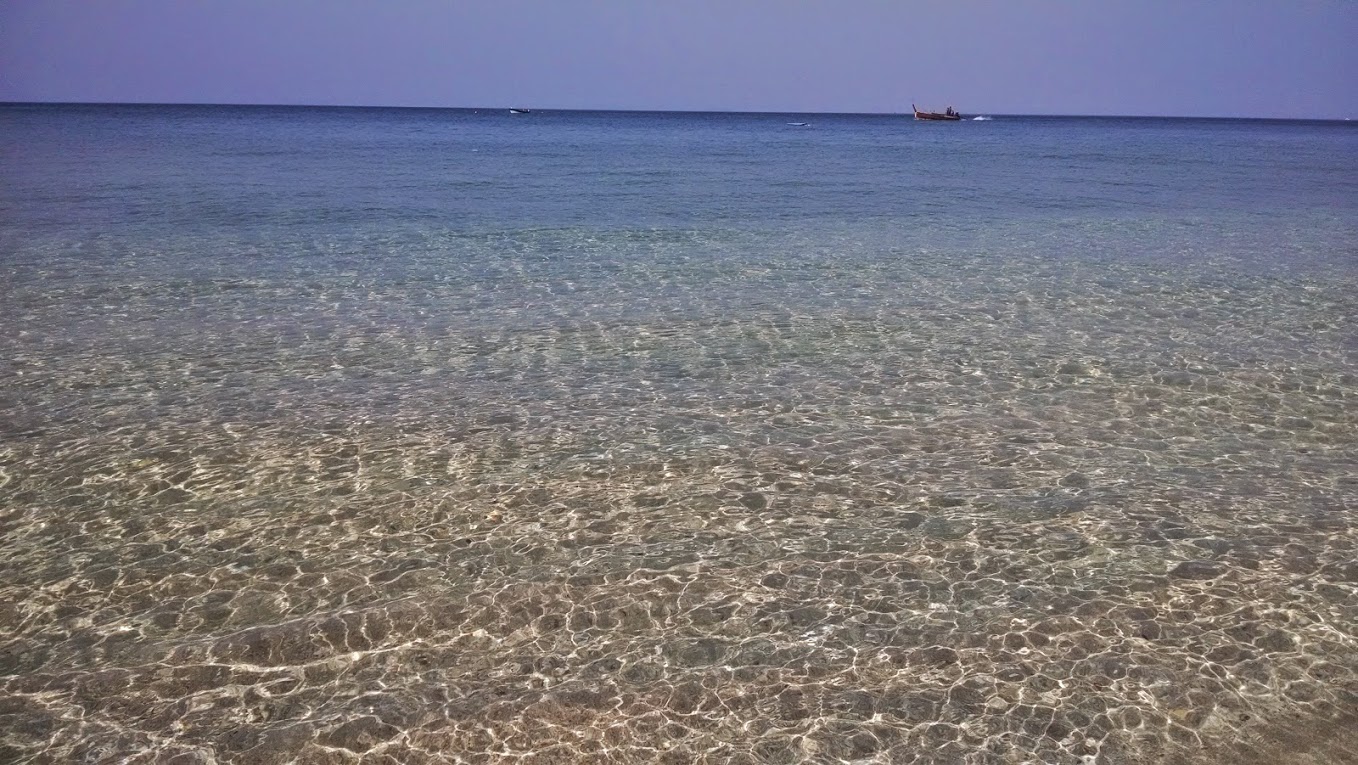 So when we finally arrived in Thailand to find that practically nobody there is vegetarian, we were definitely surprised! Cultural inclinations to include meat and fish in everything aside, Thailand still turned out to be an incredible location to eat a plant-based diet, you just have to have a few tricks up your sleeve.
After a couple days fumbling around as we ordered our food, we eventually got the hang of how to communicate what we wanted. We spent 6 weeks in Thailand and for the most part were able to stick to our plant-based ways. Here are some of the things that helped us as we were trying to stay vegan in Thailand.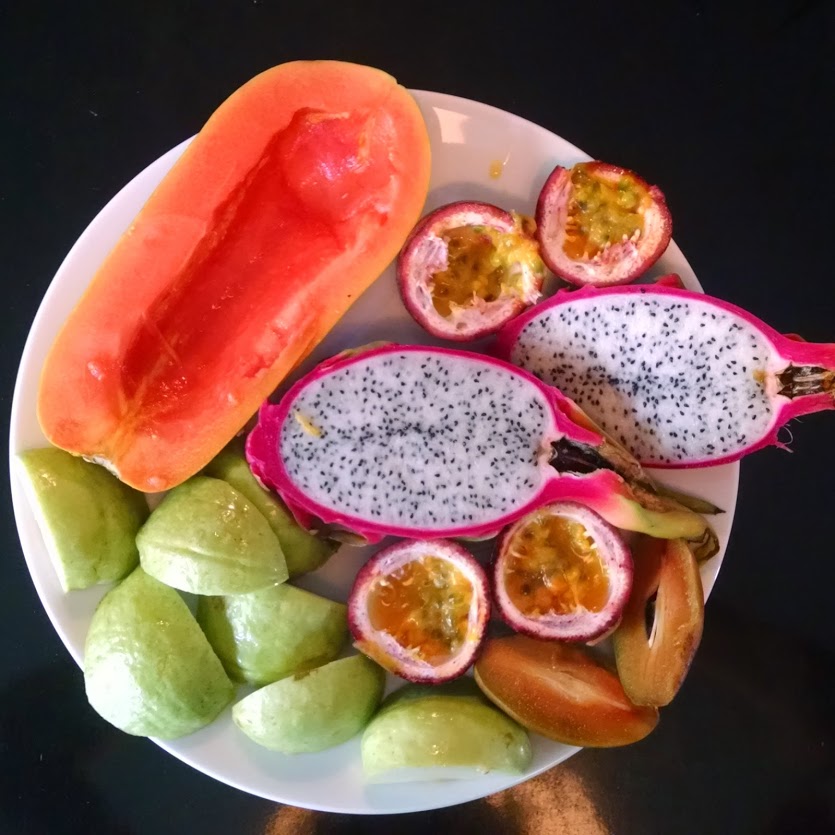 Clockwise: papaya, passion fruit, dragon fruit, sopadilla and guava.
Explore Exotic Fruits
Thailand was a goldmine for the tastiest, juiciest fruit I've ever had. Not only did I fall in love with fruits I had never tried before (or heard of!) but I changed my mind about several fruits that I had previously written off, like papaya.
These nature's candies were our breakfast every day. Depending on where we were, we either grabbed some fruit from a local street stand or stocked up at a grocery store. We made a game of buying any fruit we had never seen before. It was fun to try new things, and proved to be a great conversation starter with the Thai vendors and other tourists. One of the more unusual fruits I had in Thailand was passion fruit, which reminded me of Pop Rocks! 
One tip if you want to eat fruit for breakfast: get it the night before. Thailand has a bustling night scene where most people stay up quite late. Because of this, many vendors don't open until mid-morning. Since we were getting up early most days, we bought our fruit the night before and ate before anyone else was up and about.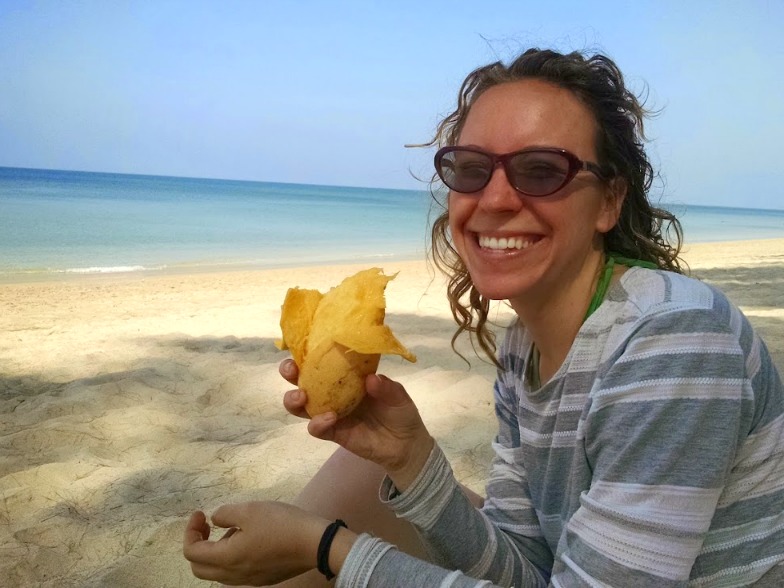 Eating a mango like it's a big fat banana.
When we stayed at a place with a kitchen we were able to enjoy things that needed to be cut open like passion fruit, guava and papaya. When we didn't have access to a knife, our go-to choice was mango.
While we were living the dreamy island life, we ate mangoes similarly to how you'd eat a banana. We'd either pinch or bite off a little piece of the skin at the top and peel it down with our fingers. Then proceed to sink our teeth into it and let the juice drip all over us. Sitting on the beach in early morning, eating mangoes like this is one of my fondest memories from our entire trip. 

The Only Word You Need to Know
The most helpful word we learned that allowed us to communicate our veggie preferences was "mang sa wirat". It's pronounced like "mon-saw-we-rot". Thais are generally not vegetarian at all, and I think technically this word conveys that you don't eat big pieces of meat. It doesn't necessarily preclude the cook from using fish sauce or pork stock.
We did find, though, that this word was all we needed to get the conversation started. Waiters definitely seemed familiar with this concept and once we ordered a dish "mang sa wirat", they would usually ask us a couple questions to specify further if we eat eggs, fish sauce, etc.
Ordering a dish like say, papaya salad, went like this: "Som tam (or just "papaya salad") mang sa wirat, no fish sauce, no shrimp, please". When we ordered pad Thai we added egg to the list of exclusions.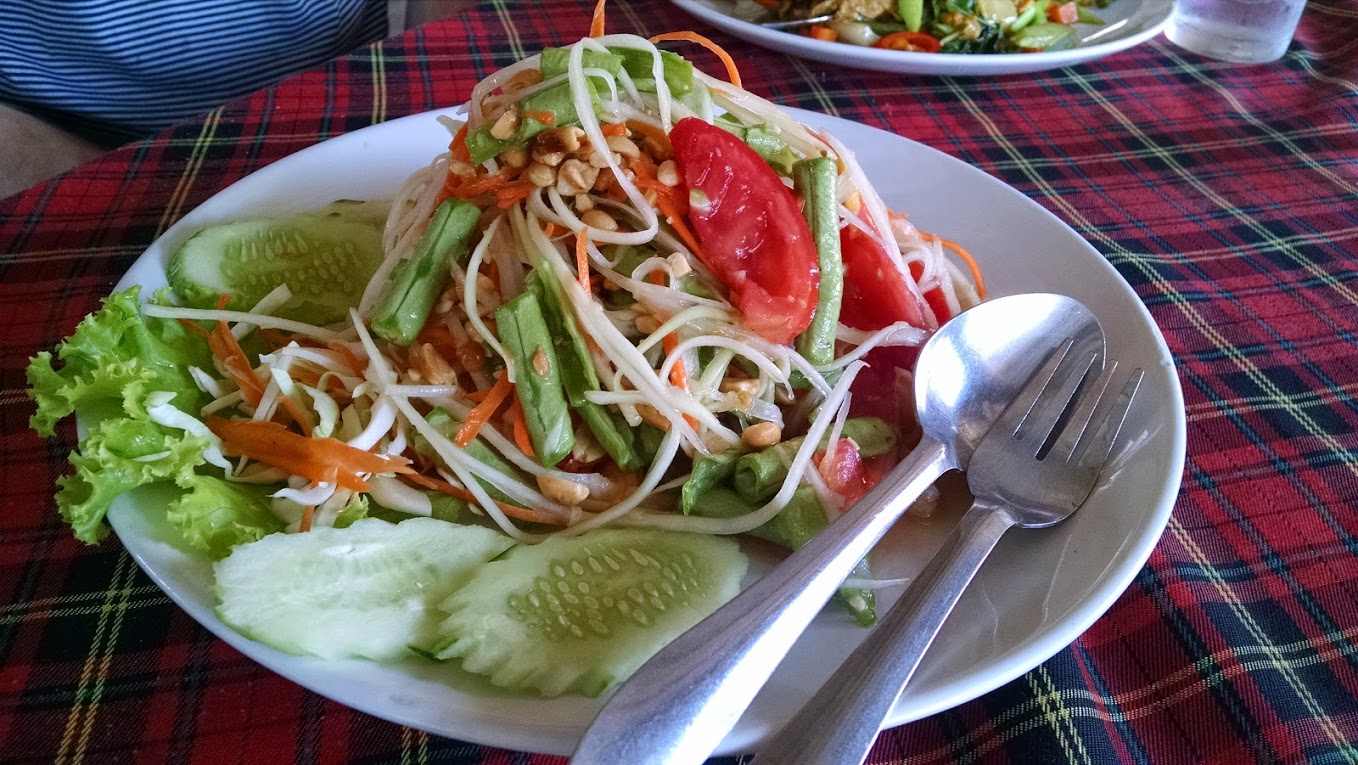 Papaya salad "mang sa wirat".
Occasionally waiters would tell us that without fish sauce the dish would have no flavor, which definitely isn't true, hah, but by and large if you're in an area that caters to western tourists you should have no problem.  

Read Labels for Fishy Ingredients
Thailand is known for including fish in nearly every single dish. After we learned the word for vegetarian, we felt pretty sure that they understood not to include it in our meals, but we had a sneaky surprise when we bought some chips one day.
We were out exploring Bangkok and decided to visit this beautiful park. The only problem was that it had been a little too long since I had eaten, and we couldn't find a food stand, restaurant or grocery store for the life of us.
Fortunately, right at the park entrance was a little food stall selling several packaged snacks. I just needed something to tide me over. Underneath all the cup-o-noodles, which all contained meat, was a rack of chips and crackers. I grabbed a bag of sweet potato chips, but it was only after I had eaten half the bag that I turned it over to see that fish was the second ingredient listed! Ugh.
In retrospect this was sort of unsurprising knowing how omnipresent fish is in Thai cuisine. At the time though, it wasn't a very pleasant discovery. Lesson learned: always read labels even when you're starving!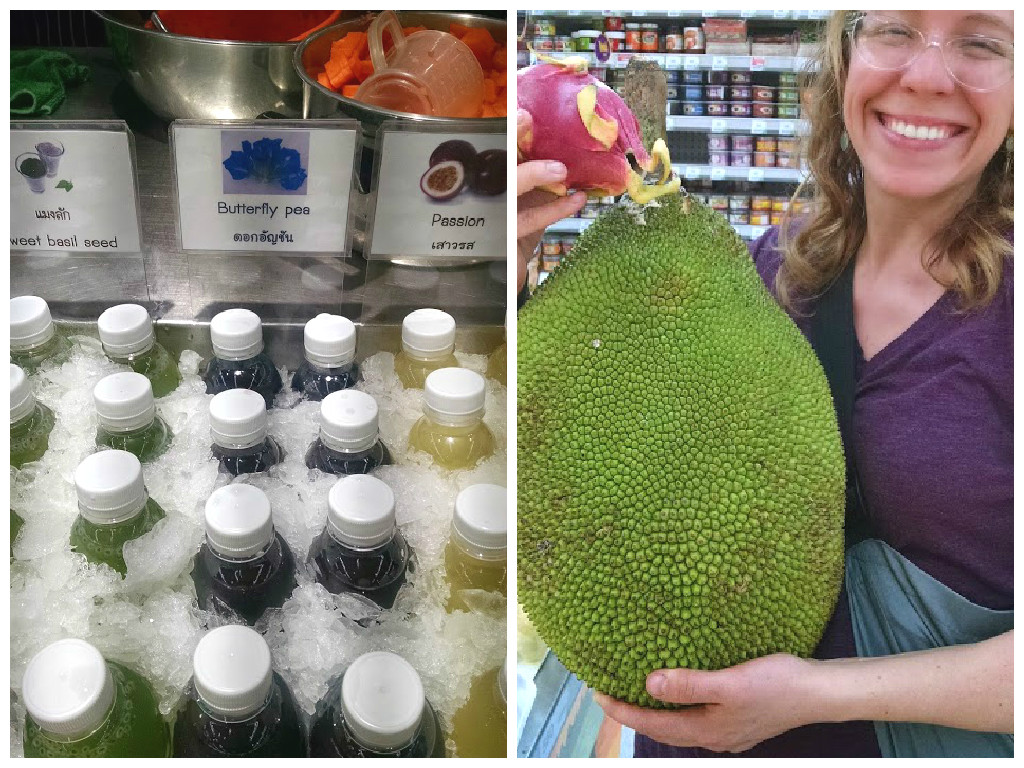 Several of the interesting things we found at a supermarket: fresh butterfly pea juice and a giant jackfruit!
Prepare for Long Trips
Bangkok is the hub for all transportation in Thailand. The infrastructure for moving around the country is pretty well developed and unless you fly between your destinations, you'll probably find yourself on a 12 hour bus ride or train trip at some point. These turned out to be fun journeys for us.
Most bus companies provide their passengers with lots of little goodies like blankets, random juice boxes and cupcakes, haha. One of the long bus rides we took even provided a boxed lunch, which was a really nice gesture. Beforehand we suspected the meal wouldn't be veg friendly, and it definitely wasn't.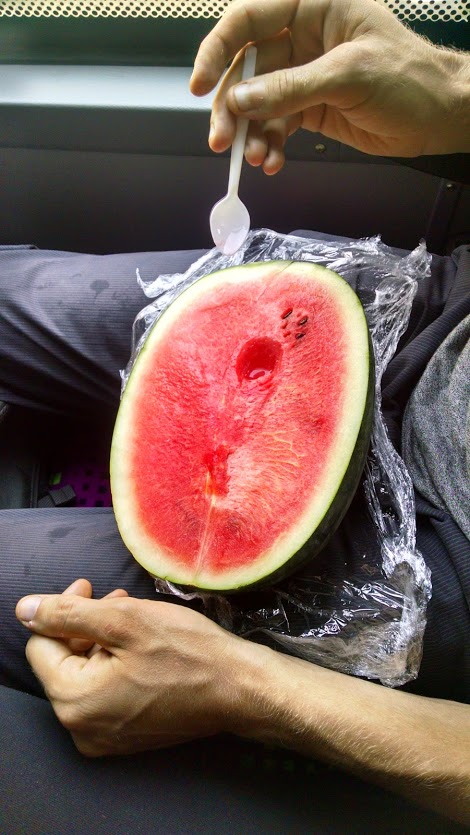 The best thing to bring on a 12 hour bus ride.
Overnight buses always stopped at a night market in the middle of the night. A crazy sight, with bright lights, tons of food stands, pre-packaged desserts, and clean bathrooms. It's a super fun place to walk around, especially because the rest stops along U.S. highways are usually dismal. That being said, they didn't have many (any?) vegetarian options. Most of the time they serve some sort of soup made from lots of fish, pork and chicken.  
So whenever we were gearing up for one of these long journeys in Thailand, we packed some snacks to make sure we had something to eat. We brought various fruits, drinks, and one time I even packed a salad I made in our hostel's kitchen the morning before an all-day trip.
Delicious Drinks
Staying hydrated in Thailand is effortless. There are so many good options to quench your thirst and beat the heat. The two most popular beverages are fresh coconuts and fruit shakes.
You can buy a coconut for a dollar or two almost anywhere you go. They'll whack it open in front of you, stick a straw in it, then you can enjoy the freshest coconut water you've ever tasted. We indulged in this snack daily.
Fruit shakes are also everywhere. Honestly, we didn't get these too often because even though the fruit in Thailand is sweet and juicy, the vendors still add sugar syrup to the drink.
Once, I got a watermelon shake but it was so sickeningly sweet it gave me a headache and I couldn't finish it. When I'm out in the sun and trying to stay hydrated, it really doesn't feel good to consume any extra sugar.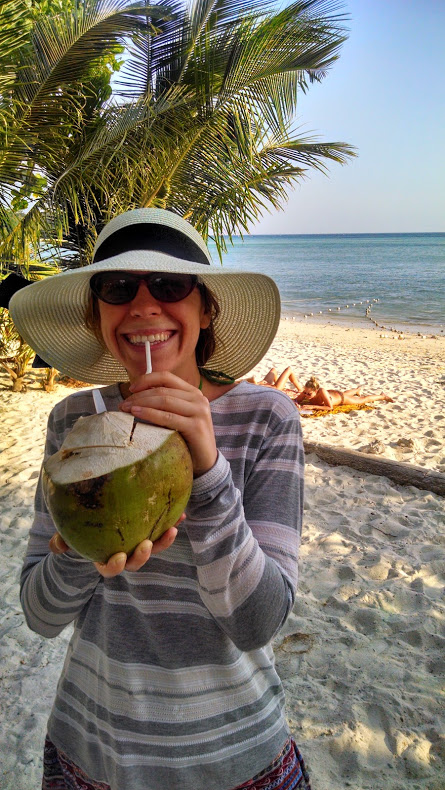 If you want one of these fruit shakes, try to order it without the added syrup. The fruit is definitely sweet enough on it's own. Also, be aware of which fruits are fresh and which aren't.
If you know that a certain fruit is in season and you can see the whole fruit on the counter, you're good to go. But I did see some stands that just had various fruit flavored syrups. They blend your shake right in front of you so you can watch what they put in it, just don't assume it's always going to be a fresh, healthy choice.
Thailand was a gorgeous country, and the food is out-of-this-world flavorful. It was the easiest place for us to eat plant-based on our trip. With a combination of picking up some fresh produce at a market or grocery store, knowing a few words for ordering at a restaurant and being aware of sneaky ingredients like fish paste and sugar, we felt like we had our bases covered.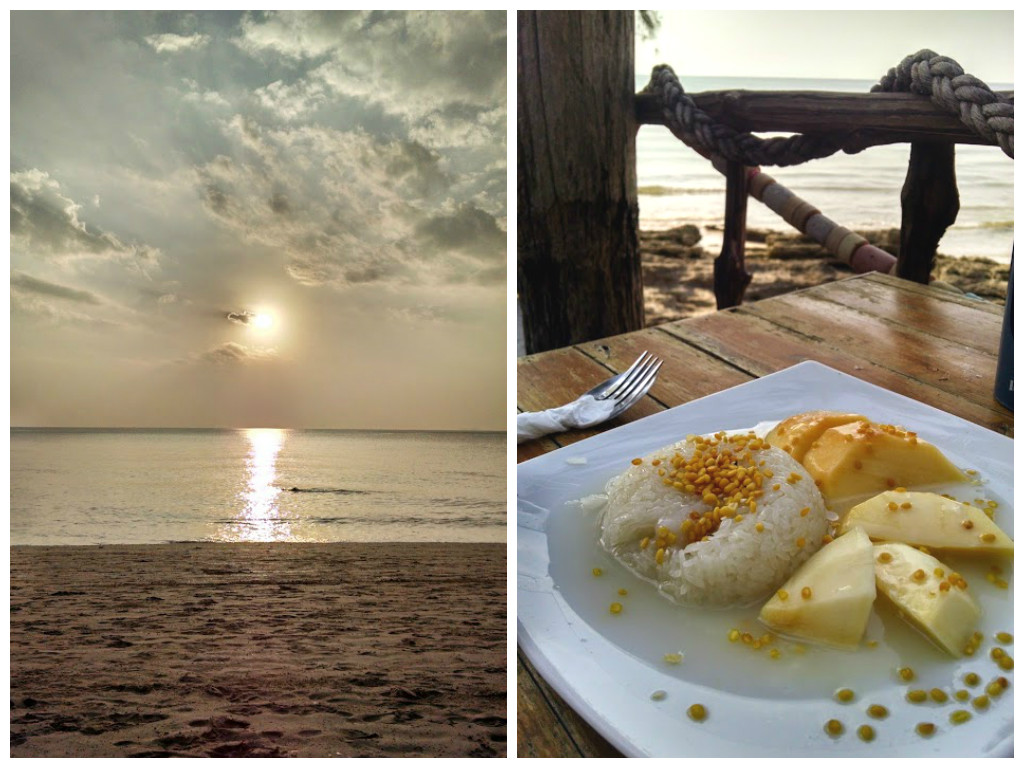 For when you need to satisfy a sweet tooth, mango sticky rice is a MUST.
Of course, as is always true with eating out, you never really know what they are putting in your food. I thought to myself many times that it would be a nearly impossible place to travel if you had a shellfish allergy. For me though, I felt like I was able to eat according to my preferences and still get to explore authentic Thai food, which is the ultimate win-win in my book. 

---
---
---