Vegan Caesar Salad
Here goes: my ode to Caesar salad.
Dear Caesar Salad,
Thank you. You are a beloved member of my family and have seen me through thick and thin. You were the one who first inspired me to eat greens when I was a wee one. You helped me stay healthy when I moved across the country to go to school. You were even there on my first date with Evan. 
I'm so happy you have stayed with me and have grown with me and are now a vegan Caesar salad so we can continue our long friendship. 
I remember the days when my age was still expressed in single digits. Saturday mornings were filled with picking dandelions playing some serious soccer and afterwards rewarding ourselves by stuffing our faces with pizza. Except I didn't really stuff my face with pizza. There was a salad bar at our favorite pizza place with a goopy previous incarnation of yourself (it's okay, we all went through an awkward phase in the 90's).
I piled my plate with you, went back for seconds, thirds... happily defying any notion that kids don't eat vegetables. You made me the crazy salad lover I am today and for that I can't thank you enough. 
With continued adoration, 
Rebecca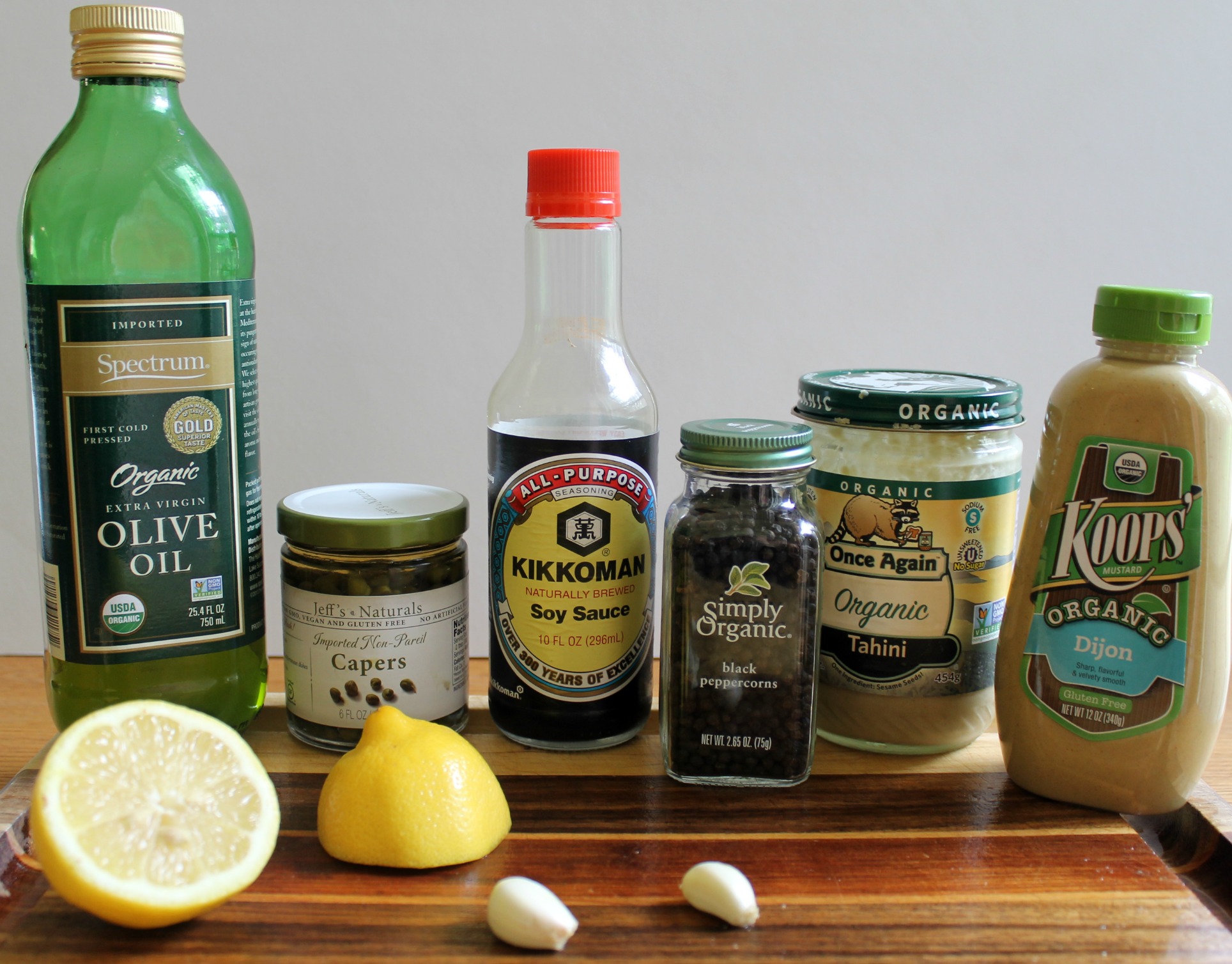 Over the years of exploring a plant-based life, I've tried several vegan Caesar salad renditions. Many are good. And just like their non-vegan counterparts, some are creamy white, some look more like a vinaigrette some are delicious and some miss the mark. 
As long as the dressing has that salty, sour, garlicy-ness to it then I like both the creamy and vinaigrette versions. I love the creamy ones on kale because it's so hearty it begs for that, but here I used the soft, hydrating romaine (the original Caesar salad lettuce) and thus I made a vegan Caesar vinaigrette to go with it.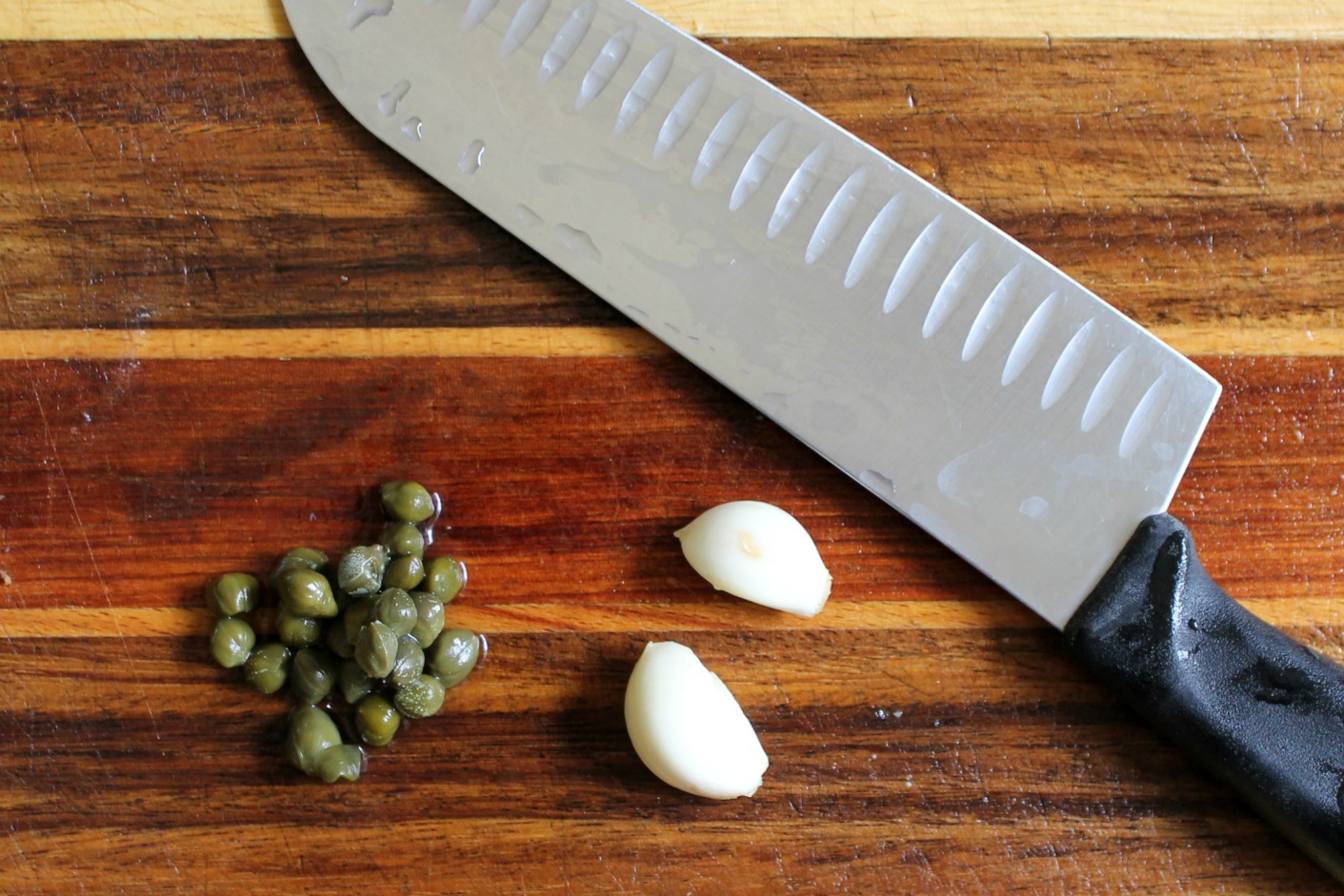 From our cast of characters above, these two are the only ones that need any work. Mince 1.5 teaspoons of capers and 2 garlic cloves.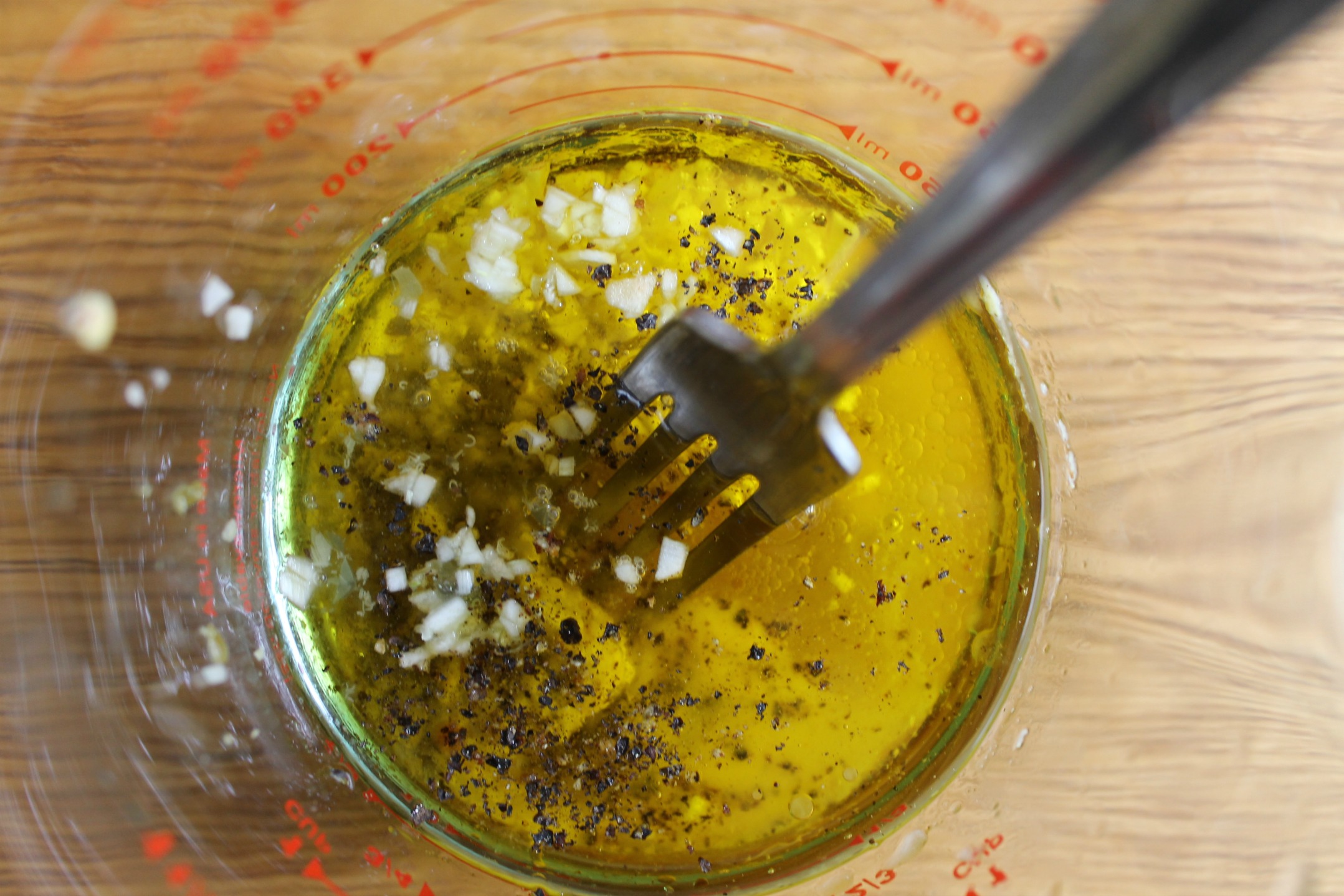 Whisk together with lemon juice, tahini, dijon, soy sauce, olive oil, nutritional yeast, and pepper. Plenty of black pepper. Oh yeaaaaa.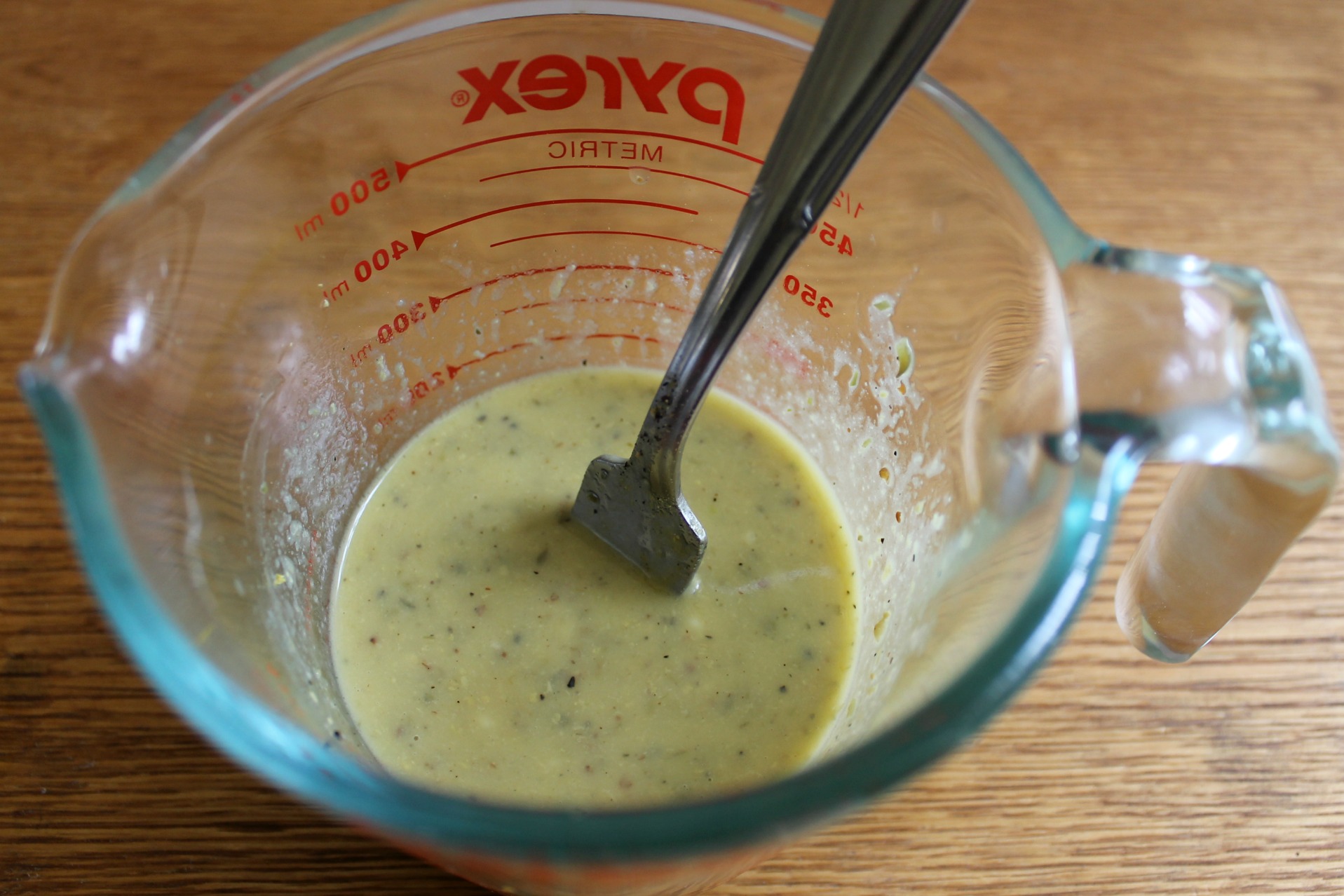 Hop on over to your stove top. Rub some olive oil on both sides of a nice piece of toast (I used Ezekiel bread) and brown each side.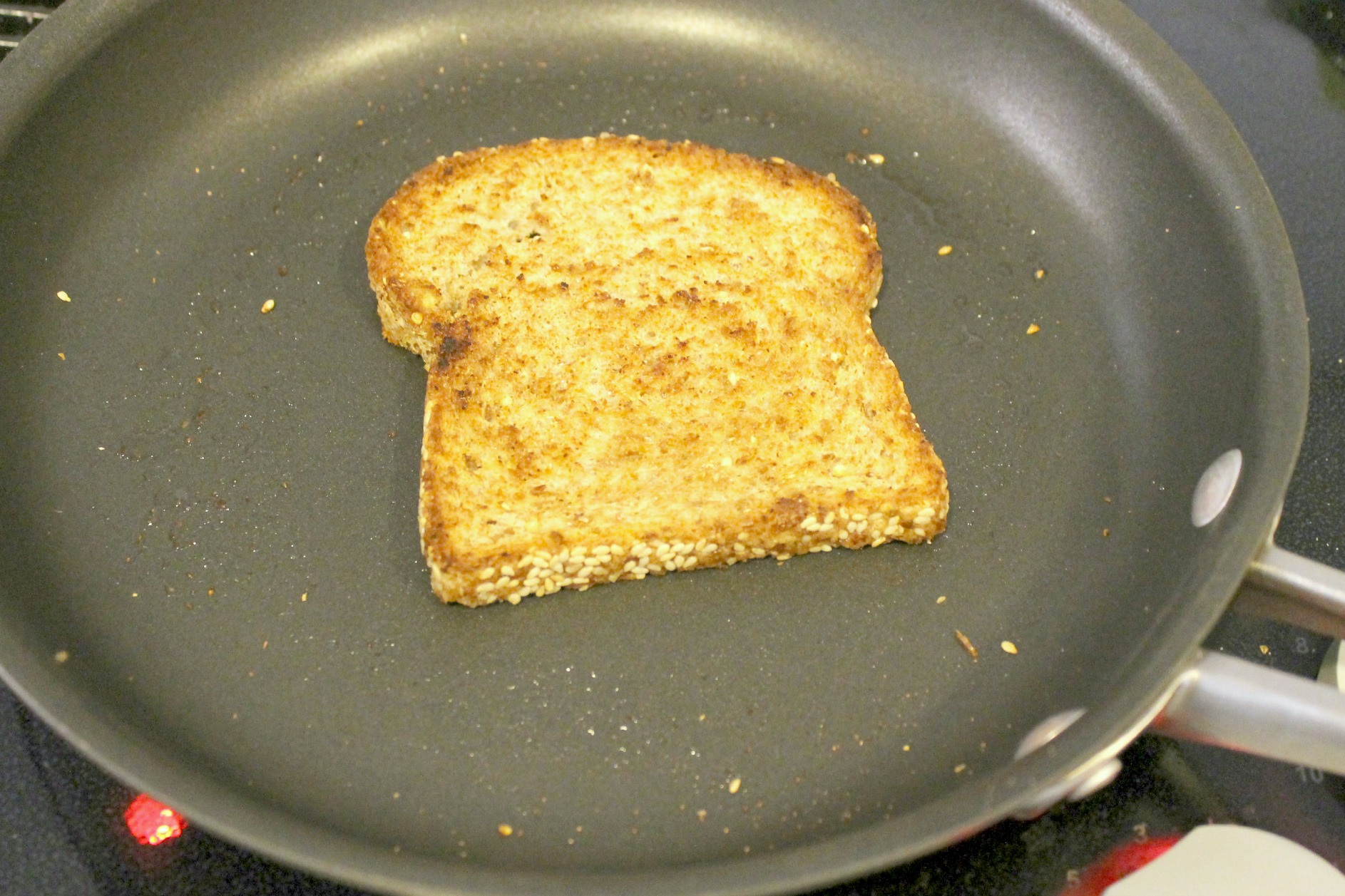 There we go. Make shift croutons.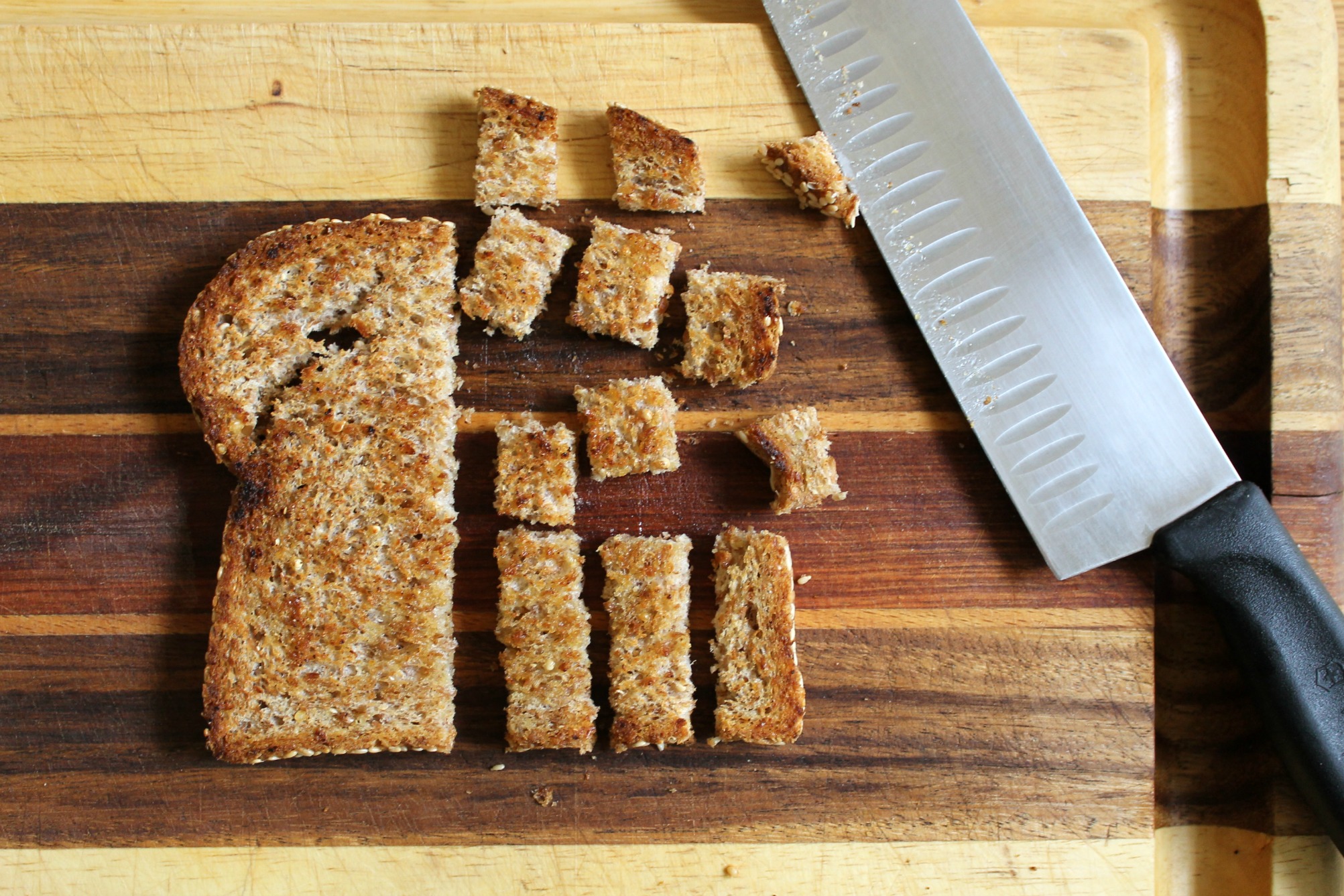 Now for the lettuce admiration portion of our program.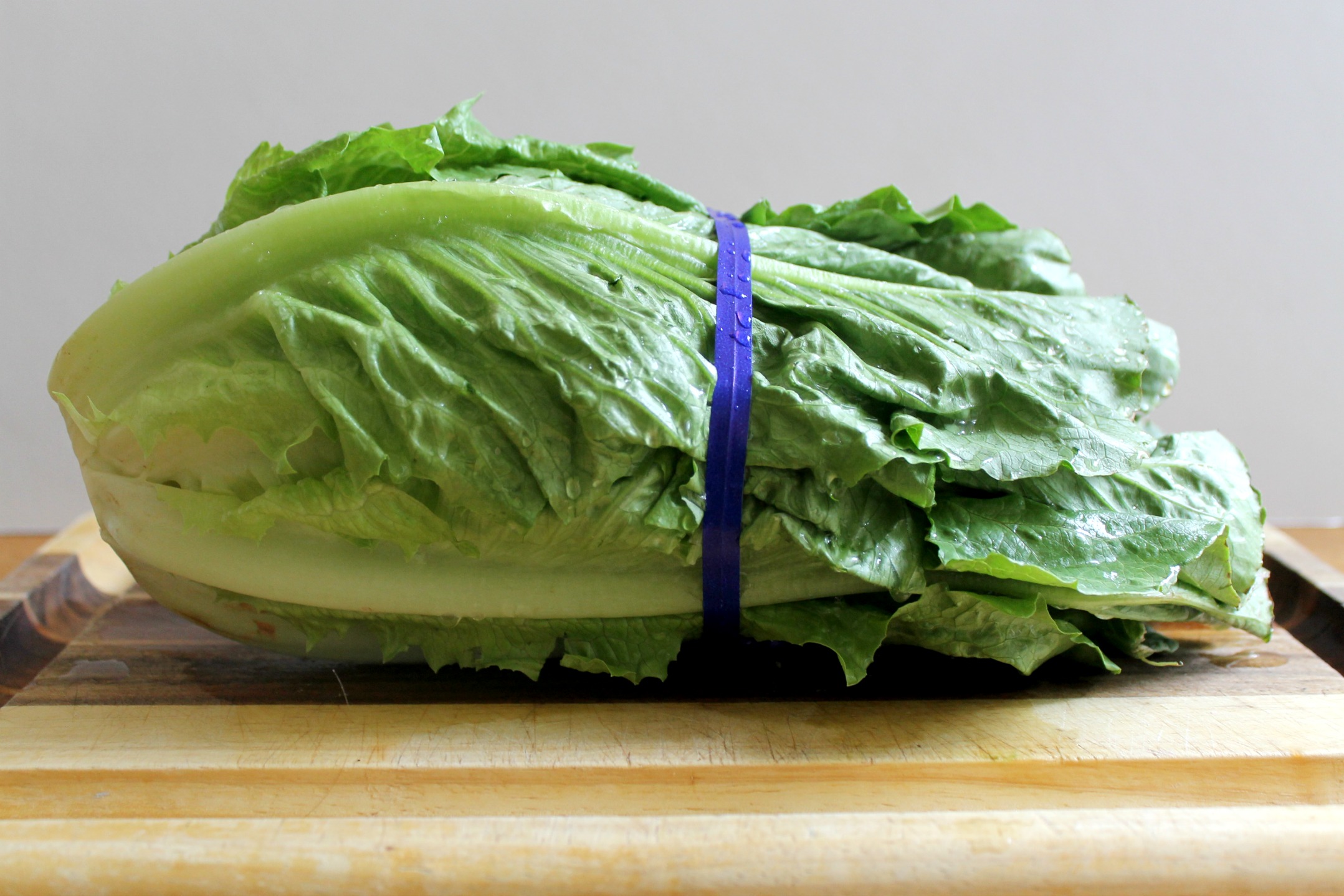 Look at that stud.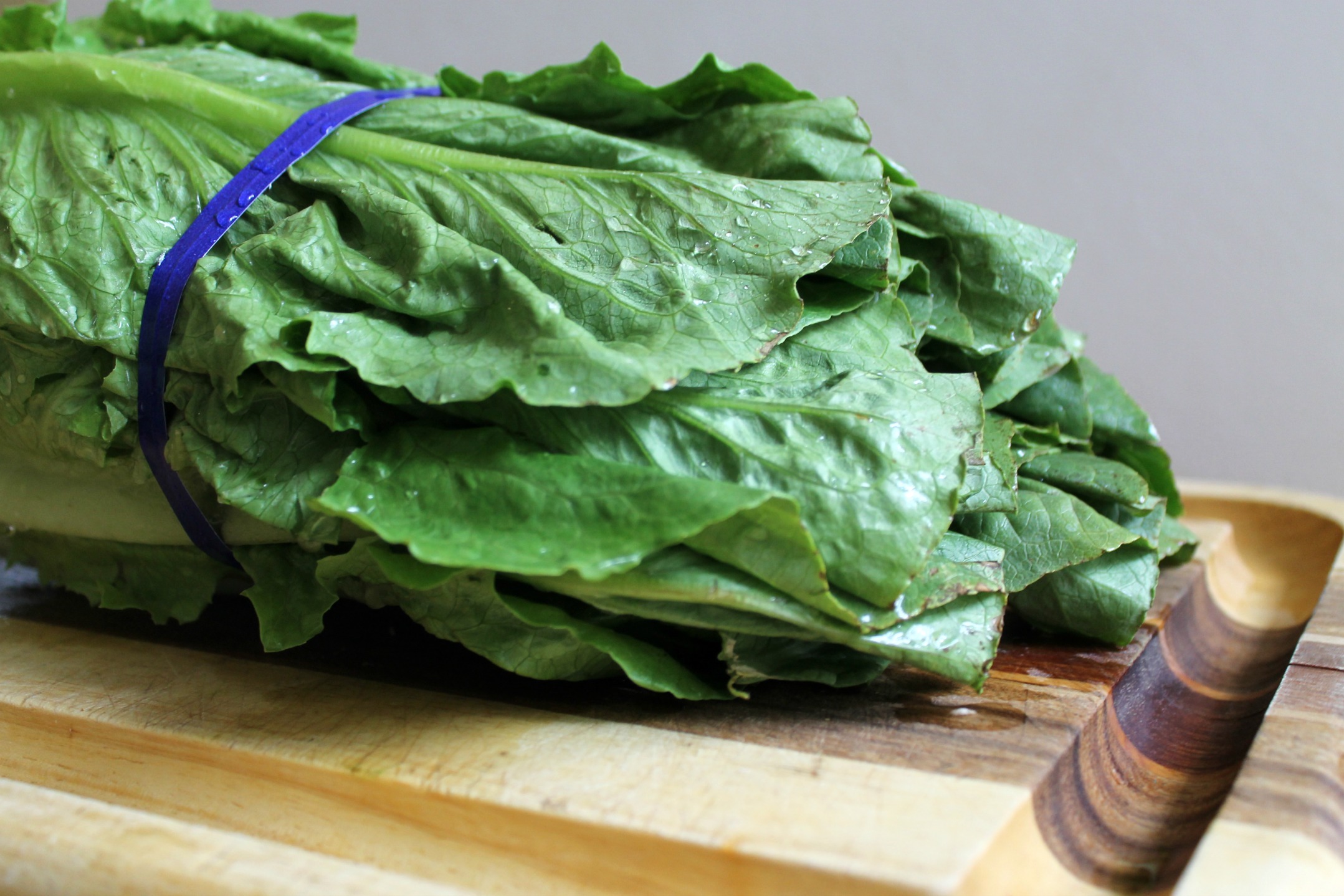 Glamour shot.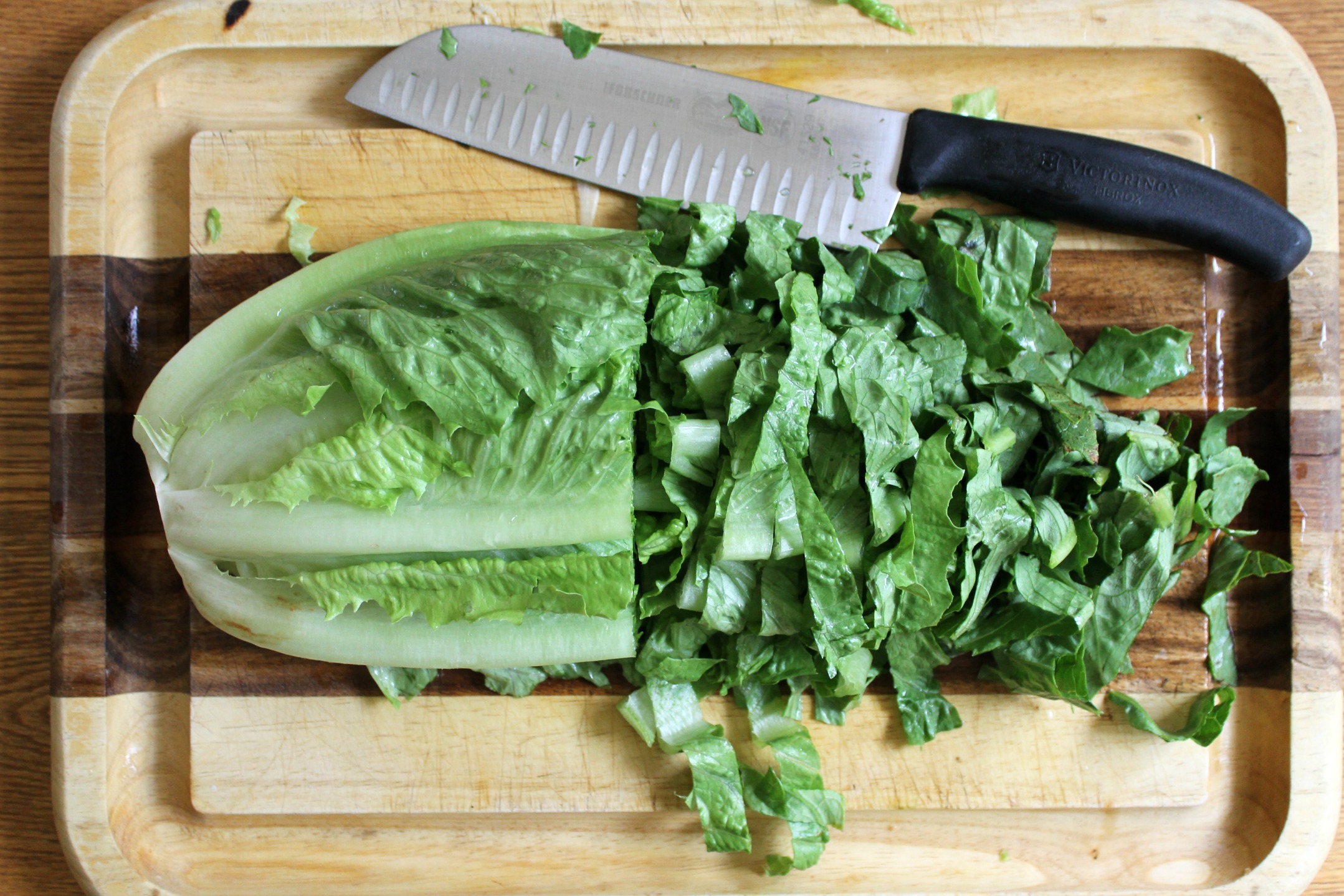 Slice a head of romaine lettuce in half lengthwise. Take each half, flat part facing the cutting board and chop. Rinse and spin dry.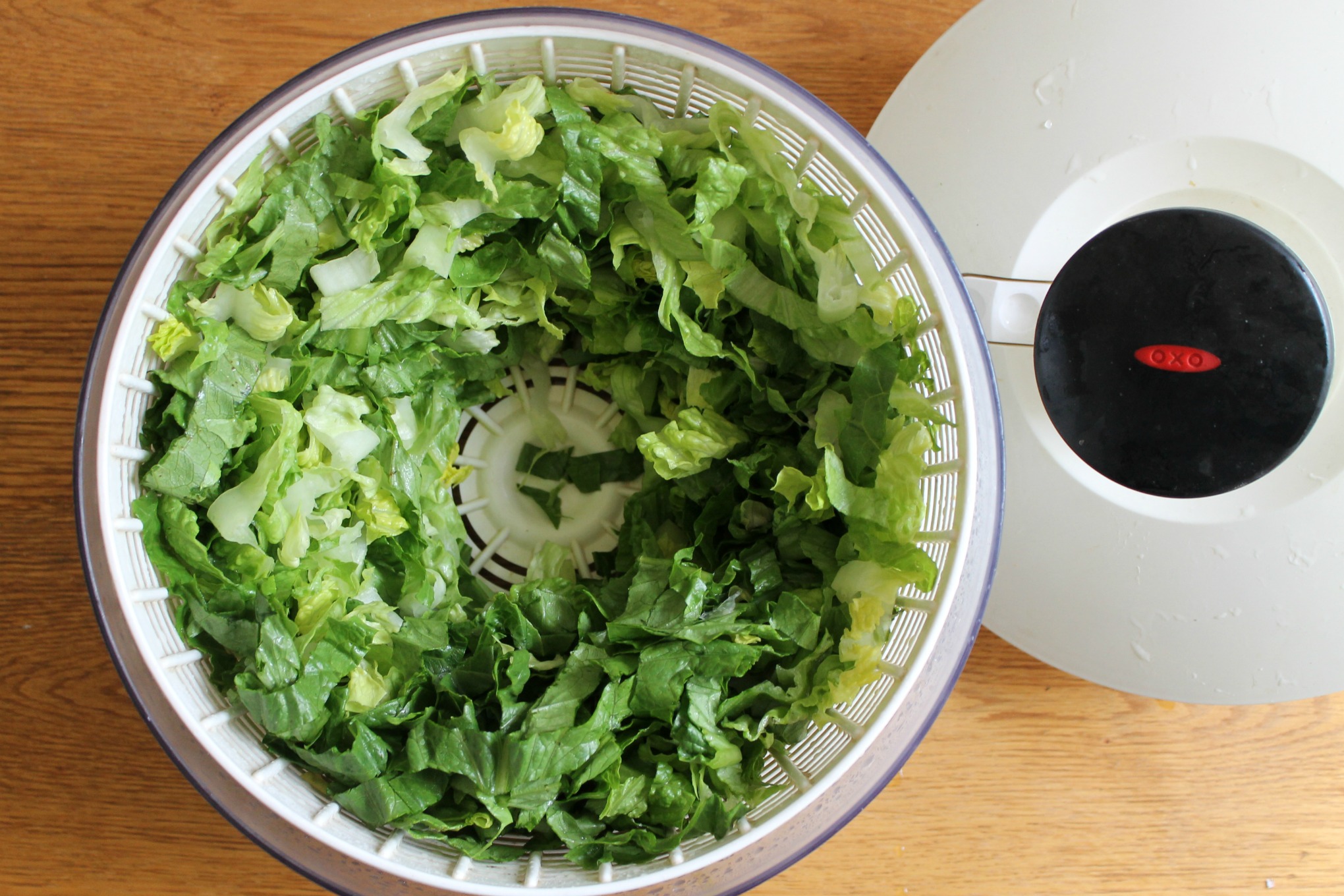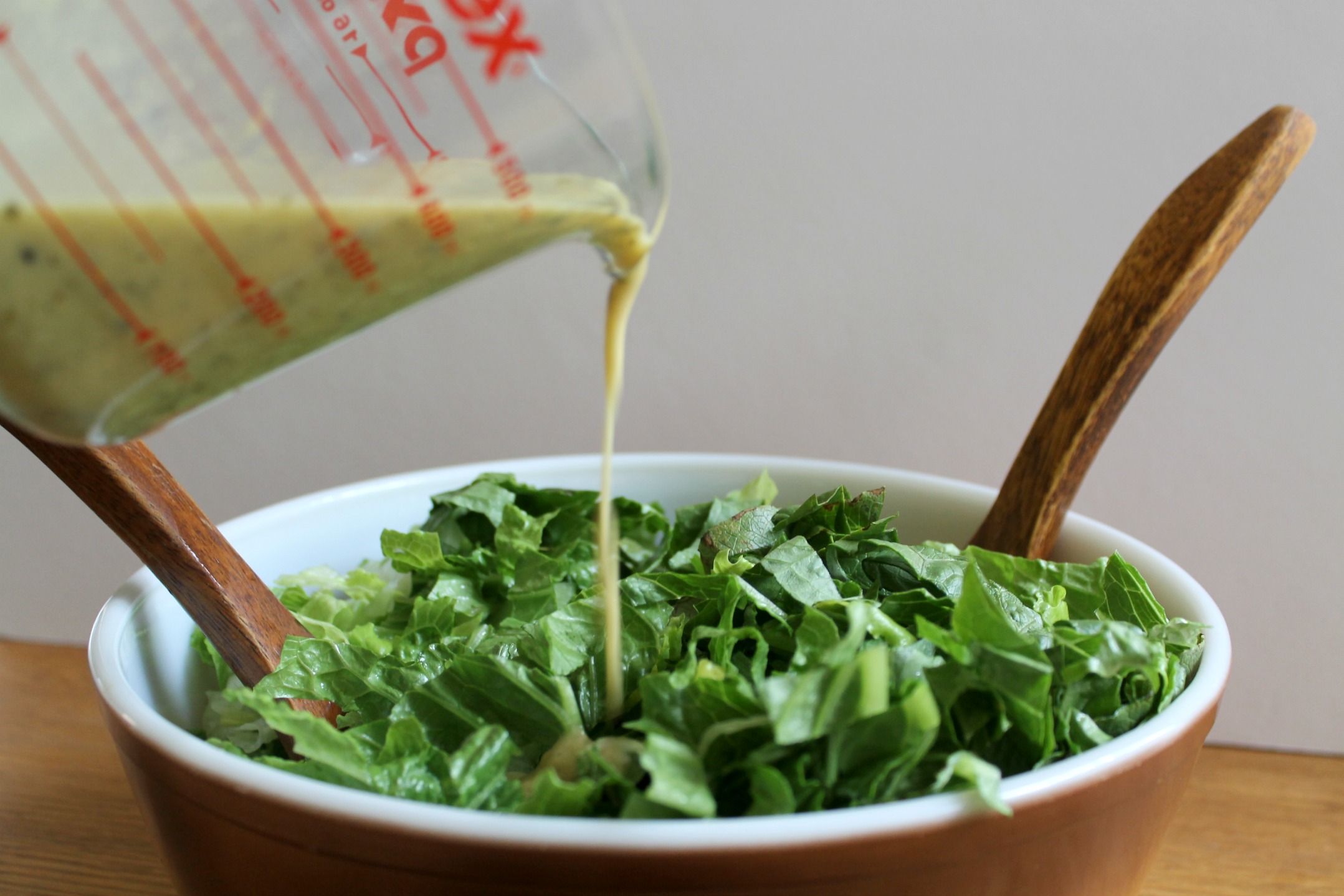 Do you like tossing salads? It's one of my favorite simple joys in life. It really bums me out when people insist on adding their own dressing after they're served. Luckily I practically ate this whole bowl of salad by myself so I didn't have to accommodate them this time. 
Voila! I served this up with some crunchy pecan pieces and toasty croutons. When I was a kid and eating this salad by the truck-full at our favorite pizza place I would always top it with roasted sunflower seeds. To this day that's still one of my favorite vegan Caesar salad toppings though it's not traditional in the least.  
Do you have any foods that have stayed with you throughout your life? Have they morphed over time or do you still crave the comfort of the exact way you ate it as a child? Though I have plenty of unhealthy nostalgic foods, I'm happy this vegan Caesar salad fuels me in a healthy way, all in the name of comfort food. 
---
Vegan Caesar Salad 
Yield: Serves 6
Ingredients

Dressing (makes 2/3 cup)
1 lemon, juiced or 1/4 cup
3 med. garlic cloves
2 Tbsp olive oil
1 Tbsp tahini
2 tsp capers
1 tsp dijon mustard
1/2 tsp soy sauce
1/2 Tbsp nutritional yeast
Plenty of black pepper
Salad
1 head romaine lettuce
2 pieces bread
4 tsp olive oil
Optional: nuts or seeds for topping
Directions
Mince capers and garlic, juice lemon. Add all dressing ingredients to container and whisk together. 
Add 1 tsp of olive oil to a skillet on medium heat, lightly rub one piece of toast around in the oil until it roughly coats one side. Allow toast to brown. Repeat for the other side of the toast and then again for the other piece of bread. 
Once toast has cooled slightly, cut into little squares to make quick croutons. 
Chop, rinse and dry romaine lettuce. Toss with dressing. Add croutons and any optional toppings to serve.
---
---
---