Spinach and Artichoke Dip Recipe
On this cold and rainy fall afternoon I'm so happy I have my spinach and artichoke dip recipe by my side. I just whipped up a batch and while I wait for it to bubble away in the oven I'll share with you this great cool-weather classic.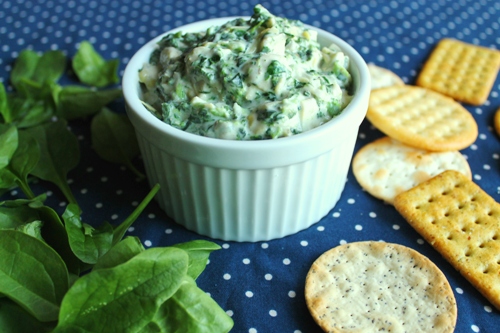 This dish hits the spot on so many occasions because it really warms you up from the inside out. Everyone knows how satisfying rich, creamy foods can be when you're shivering from temperature drops but my favorite part about this spinach and artichoke dip recipe is that it's not super unhealthy (for being a comfort food).
I have fond memories of my mom making this recipe for us to nibble on while we folded laundry and watched Sunday football. There's just something so homey about it so whether you're inviting friends over for an autumn meal and need a great appetizer to start off with, or you need something to snack on while watching the game, hot spinach and artichoke dip is your answer!
Ingredients
1 brick of frozen spinach (10 oz.), thawed and drained
1 can artichoke hearts (14 oz.), drained and chopped
3 cloves of garlic, minced
1 cup plain yogurt
¼ cup olive oil
1 cup monterey jack cheese (by volume), grated
½ cup mozzarella cheese (by volume)
½ cup of Parmesan cheese (by weight), grated
½ teaspoon of salt and pepper
1 tablespoon dried oregano
Directions
Mix together all ingredients except for ½ a cup of monzzarella cheese in a medium sized casserole dish.
Sprinkle the rest of the cheese on top and bake in the oven at 350° for 40 minutes or until cheese is golden brown and bubbly.
Serve hot with cut vegetables, crackers, or small piece of toast!
Even though this dish tastes so good you'd think it'd be totally sinful, it's actually not. The spinach and artichokes baked into the gooey goodness give you some super veggies that contribute to your daily quota. Some recipes call for oodles of mayonnaise, sour cream, cream cheese, regular cheese andcream to boot! That's enough dairy and fat to kill a cat but this recipe is balanced with enough of the good stuff to blend with the good-for-you-stuff in just the right way. I hope you enjoy it as much as I do!
---
---
---