Roasted Root Vegetables Recipe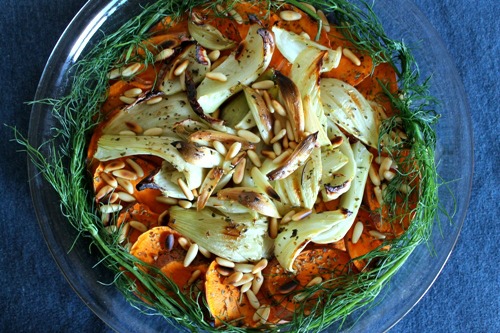 Full honesty here, I don't even like root vegetables that much. They're usually too...rooty or earthy or something. But once in a blue moon it's just the dish the menu is asking for. Being that they're really easy to prepare, look delightful on a holiday table, I was asked to craft up a roasted root vegetables recipe for a family get-together. In this dish I left out the particularly odd ones and stuck to the vegetables I knew would be a hit.
A hit it was! After taking a bite my brother said, "I can't stand most roasted root vegetables but this is really great!".
So if you're like me and find parsnips and turnips and beets a little bit of a buzz kill try this recipe. The sweetness of whole garlic cloves, caramelized red onions and toasted pine nuts will leave your taste buds pleased and content.
I often think winter got the short end of the stick as far as fresh veggies and fruits go but this dish will get me through the cold months until all my favorite greens and berries come back in season. I hope this roasted root vegetables recipe helps tide you over as well!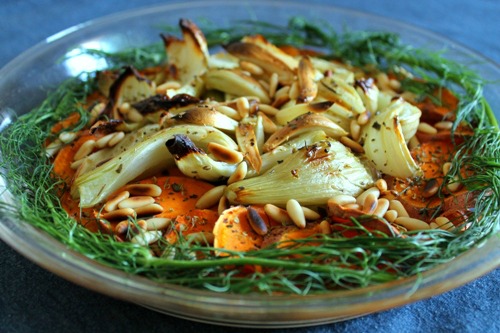 Ingredients
1 fennel bulb
1 sweet potato
1 whole head of garlic
1 red onion
extra virgin olive oil
balsamic vinegar
herb de provence mix
½ cup pine nuts
Directions
Pre-heat oven to 425°
Remove the tough core of the fennel and slice the bulb into 1 inch petals (save some fennel leaves for garnish)
Wash and cut the sweet potato into roughly ¼ inch disks
Cut the red onion into cross sections and separate the rings
Separate and peel individual garlic cloves
Toss all veggies in a couple tablespoons of extra virgin olive oil
Layer the sweet potatoes on the bottom of your casserole or baking dish. Drizzle balsamic vinegar over them and sprinkle with herb de provence.
Pile on the rest of your vegetables, add another sprinkle of herb de provence and bake in oven for 30 minutes or until tender and starting to brown
While the roasted root vegetables are baking, dry roast the pine nuts. Put a small fry pan on medium heat, add the pine nuts to the pan and shake them around every 20 seconds or so. (Dry roasting such a soft nut like this won't take much time at all and they burn easily so be sure to watch them. When they look slightly brown and you can smell their sweet aroma, pour into a bowl to cool.)
When your roasted root vegetables are finished baking, pour the pine nuts on top, you can garnish with some fennel leaves and serve!
Okay, now you're armed with a great go-to roasted root vegetables recipe. Next time you hit your mid-winter slump or feel stumped while standing in the produce section in December remember just how tasty these winter veggies can be.
---
---
---