Pumpkin Nut Bread Recipe
This family pumpkin nut bread recipe will make a great afternoon snack or dessert on any fall day. It's perfect to make after Thanksgiving when you have extra pumpkins sitting around or to make for an alternative to the omnipresent pumpkin pie for your holiday table.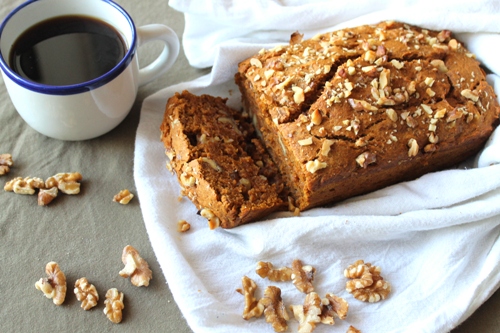 This recipe has been handed down through generations in my family, recorded on a vintage note card with little tips scrawled along the edges. My grandmother advises that this loaf of bread freezes beautifully and my mom adds that it tastes great spread with cream cheese.
Of course it's also wonderful eaten warm, right out of the oven because few things in life top the sensation of eating freshly baked bread.
With this recipe you'll be armed with the perfect fix on a chilly day. It will combat those winter blues anytime because baking is therapeutic and the aromas of pumpkin and spices will fill your home with warmth.
Pumpkin bread and other quick breads like banana bread don't require yeast. Instead, baking powder causes the ingredients to rise in the oven so you won't need to fuss with kneading dough.
This process is as simple as can be and your resulting homemade pumpkin nut bread will surely be worth the effort!
Pumpkin Nut Bread Recipe
Ingredients
1 15 oz. can pumpkin puree (or fresh pumpkin puree)
2 cups flour*
1 cup brown sugar 
2 tsp baking powder
⅓ cup canola oil
⅓ cup of almond milk (or water)
½ cup chopped nuts (walnuts and pecans work fabulously)
Spices: 1 tsp cinnamon, 1 tsp salt, 1 tsp nutmeg, ½ tsp cloves
*I use whole wheat but if you don't like hearty breads you can use all-purpose or white flour.
Directions
Pre-heat oven to 350°
Grease 9" x 5" loaf pan, set aside
Mix dry ingredients (except nuts), then add wet ingredients and mix until combined (don't over mix or your loaves will become tough)
Fold in nuts saving a couple aside to chop and sprinkle on top
Pour into greased loaf pan and sprinkle chopped nuts on top
Bake for 1 hour 15 minutes or until a toothpick inserted in center comes out clean
Remove from oven and set pan on wire rack, let cool for 20 minutes before removing bread from pan
Enjoy with coffee, spice tea or warm apple cider!
---
---
---