Perfect Pillowy Pancakes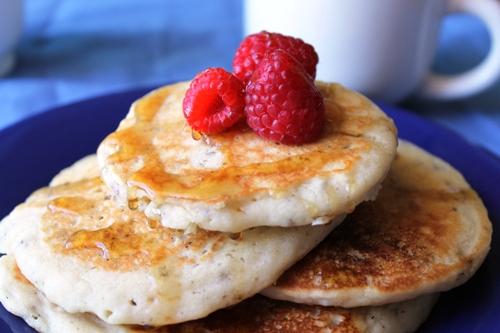 These days it's fairly rare for us to whip up a batch of pancakes. I guess I feel like I need an excuse to splurge or something, but sometimes just the fact that it's Sunday is reason enough.
These babes are always a crowd pleaser. There's just something fun, lighthearted and child-like about them. They're also a great thing to serve when hosting overnight guests or for special occasions (like Sundays, right?).
If you prepare toppings or add-ins like bananas, blueberries, chocolate chips, walnuts, what-have-you, you can even have a do it yourself type or breakfast shenanigan. Now that's what I call fun...just pass the syrup (and by syrup I mean raw agave) and everything will be okay.
Ingredients
1 cup of all purpose flour
1 cup of whole wheat flour
2 cups buttermilk
3 tablespoons unsalted melted butter
1 egg
2 teaspoons baking powder
½ teaspoon baking soda
2 tablespoons sugar
½ teaspoon salt
Neutral oil for pan
Directions
Mix dry ingredients in bowl.
Whisk wet ingredients in separate bowl.
Make a hole in the middle of the dry ingredients bowl and pour liquid mixture in, stir together just until the are mixed. Remember to not over stir. A few lumps are fine.
Heat a cast iron or non-stick skillet over low-medium heat (make sure it's hot before getting started). Scoop ¼ cup of batter onto the skillet and cook until edges start to turn golden and bubbles appear (about 3-4 minutes) then flip and after another 2 minutes or so they're ready to eat!
Avoid the common pancake pitfalls
Sometimes griddlecakes can turn out tough. This happens when you overwork the batter. Avoid stirring too much and you'll get softer, fluffier flapjacks.
For the eager beavers out there, heed this advice. Allowing your cooking surface to heat up properly before scooping the batter on will prevent mishaps. When the surface is hot enough to sizzle water droplets you can add your batter and the hotcakes will cook perfectly.
Use a ¼-⅓ cup measuring cup to scoop out your batter for great 4-5" medallions. Go larger if you want jumbo size!
Get a large serving plate ready with a kitchen towel to put over finished slapjacks to keep them warm as you continue cooking.
---
---
---