Lentil Meatballs
These lentil meatballs are very flavorful and tasty. They play a similar role to real meatballs but are much healthier and probably cheaper too (oh yea, and of course they're vegetarian).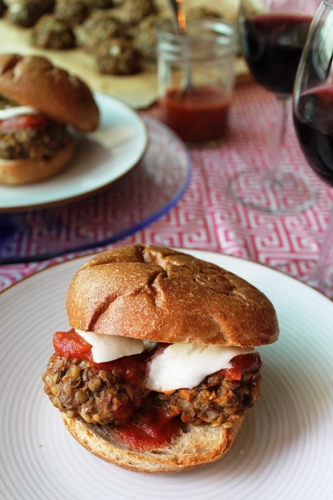 Lentil meatballs are amazingly versatile -- more so than their carne counterparts. You can add them to the menu next time spaghetti night rolls around, eat them as a snack in the afternoon to tide you over until dinner, crumble them over salads for lunch or toast a baguette and make a lentil meatball sub! (That's my favorite way!)
Last time I whipped up a batch we had a ton left over so I froze the uneaten ones and they made really easy, fast lunches. We just popped a couple in the microwave with some tomato sauce and a little mozzarella for a quick bite. They're healthy and actually keep you full, which is pretty awesome.
These puppies won't make you feel gross after you eat them either. Lentils are packed with fiber and protein so they don't spike your blood sugar levels after a meal.
If you've been trying to find more ways to fit legumes into your diet, this is a great place to start. Lentils cook much faster than other beans and you don't have to pre-soak them for hours. Personally, I think they're one of the best tasting legumes and this recipe has the added benefit of a familiar taste if you're new to switching away from meat.
Hope you enjoy!
Ingredients
* This recipe makes about 40 1" meatballs. Leftovers freeze easily but you might want to cut the recipe if you don't need that many. :)
3 cups dry lentils (greenish/brown kind)
5 cloves garlic
1 medium yellow onion
2 eggs
½ cup bread crumbs

¾

cup all-purpose flour
4 T soy sauce
1 6 oz. can tomato paste
1 T fennel seeds
½ T red pepper flakes
½ T oregano
½ T thyme
pepper to taste
Directions
Cook lentils according to directions on the bag. Normally let them cook for 12 minutes or so in boiling water, until soft. Drain and rinse with cold water to cool.
Mince garlic cloves, dice onion, beat eggs and pre-heat oven to 400°.
Combine all ingredients in large bowl and mix together. Mash as best you can with potato masher.
Line a baking sheet with parchment paper. These puppies aren't going to roll into balls as easily as real meat meatballs do but there is a way to do it. With clean hands, use a spoon and scoop some "dough" into one hand. Use the spoon to pat the mixture into a sphere. Carefully scoop out of your hand and onto the baking sheet. It's not hard, just a different technique and you'll get the hang of it! Bake for 18 minutes.
---
---
---