Learn How to Make Hummus
Once you learn how to make hummus you can rule the world...well not quite, but you'll be one step closer to ruling the kitchen and making homemade recipes that nurture your body and taste awesome too!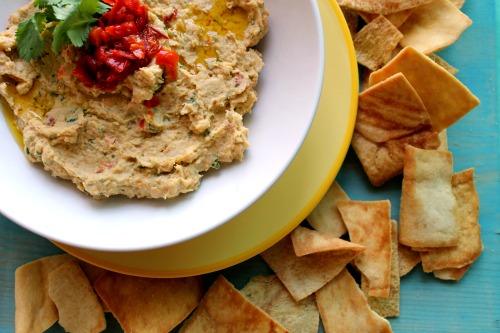 Many people don't eat enough beans. Some argue that they have a funny texture, they don't go well with other ingredients and that they taste bad. I would beg to differ, but making hummus is an easy way to make one of the healthiest kinds of beans, chickpeas, appealing even to bean-haters.
Chickpeas, also known as garbanzo beans, help you feel more satiated with your meals so you'll be less inclined to eat junk. This is a particularly great benefit if you're aiming to lose weight or decrease the amount of processed foods you eat. They also contain antioxidants as well as a ton of fiber which helps support a healthy digestive track. Additionally they help control blood-sugar levels and insulin secretion making them great for fending off early signs of diabetes.
Beans of all sorts are an excellent source of protein, so valuable to vegetarians. Once you learn how to make hummus the possibilities are endless. Play around with all sorts of different flavors, add-ins, toppings and don't feel shy about using a different type of bean entirely. White beans have been known to make a pretty mean batch of hummus themselves.
Hummus Recipe
Ingredients
1 can or 15 oz. chickpeas, rinsed well and drained
⅓ cup of tahini paste (sesame seed butter)
3 cloves garlic, minced
3 tablespoons fresh lemon juice
½ cup fresh cilantro, chopped (you can substitute parsley if you'd like)
2 tablespoons olive oil
1 teaspoon of salt
2 teaspoons of cumin
Optional Variations:

Add roasted red peppers
Add black kalamata olives
Add sun-dried tomatoes
Add serrano peppers (spicy!)
Directions
You can either use a food processor, blender or immersion blender to mix the ingredients. My preference is the immersion blender because then you can simply throw all the ingredients in a big bowl and puree. If you're using a counter top blender I suggest adding the liquid ingredients (olive oil and lemon juice) before you pour in the chickpeas and tahini and spices. This prevents the dry items from sticking to the blades as much. (If the resulting mixture is too dry add more olive oil to make it silkier.)
Serve with pita chips, warmed bread or pita pockets, fresh vegetables, crackers or use as a condiment on sandwiches.
I hope you enjoy learning how to make hummus. It really is super easy and a flexibile recipe that you can play around with. You'll also find it benefits your wallet as well because the raw ingredients are cheap and there's a huge mark-up on the super creamy version of hummus they sell in the grocery store.
---
---
---