How to Make Guacamole
Learning how to make guacamole was a turning point in my home-cooking career. I love many kitchen concoctions that I've encountered over the years but none hold a candle to guacamole; it just has a special place in my heart.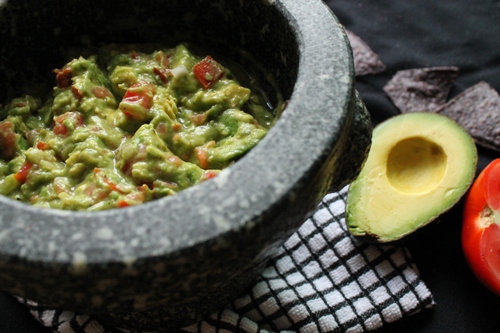 I had tried many times to make this magical green goodness before I learned the secrets of the trade. Of course, though my brother would disagree (he's allergic), I think it's pretty hard to screw up an avocado. But once you've tasted it this way, you'll never need another guac recipe again.

One of my very bestest friends and co-culinary-adventurers taught me the right way to make guacamole. Of course I have to give credit where credit is due because she actually learned this from her boyfriend who picked up a few tricks from the Mexican restaurant he used to work in.

He just has that special touch. So much so that his friends have disqualified him from guacamole making competitions simple because it's not fair for him to participate.

But enough's enough. Here's the 1, 2 on how to make guacamole (the bestest way)!
Guacamole Recipe
Ingredients
Directions
Take the flesh of the avocado's out of their skin and put into a bowl. Roughly mash with a fork.
Add the garlic, shallot, tomato, and spices then juice the lime half. You can even use some of the lime zest if you're feeling fancy, then mix all the ingredients together.
Stuff your face with this delicious nectar of the gods...I mean delicately eat with corn chips, cucumber slices, put on top of burritos, quesadillas or serve however you want!
Now that you've learned how to make guacamole like a professional, go forth and enjoy munching on one of the best gifts to humanity!
---
---
---