How to Make Bruschetta - It's so simple!
Learning how to make bruschetta will pay off big time next time you have an basket overflowing with summer-ripened tomatoes on your hands. This is the best pre-dinner appetizer or snack and all the fresh ingredients make it absolutely mouth-watering.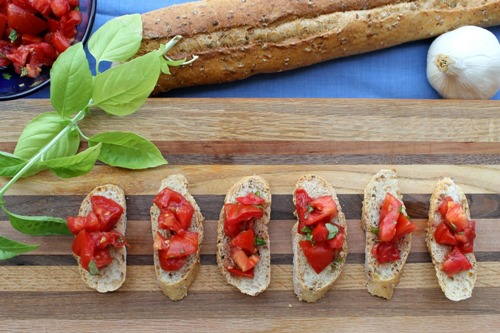 This is a true antipasto dish from Italy. (Antipasto means "before meal".) The original version is simply sliced bread that is rubbed with garlic, smeared with olive oil, sprinkled with salt and pepper then grilled or toasted.
Most modern versions have toppings, the most common of which nowadays is chopped tomatoes and basil. You can also add black olives, artichokes, and for non-vegetarian cured meats are also popular.
This recipe will teach you the how to make bruschetta in it's common form but feel free to change up the toppings in any way you want. When you don't happen to have a bunch of fresh tomatoes and fresh basil laying around (i.e. the other 9 months of the year), jarred roasted red peppers and sun-dried tomatoes make a great substitute for a winter-friendly version. I've also had success using combinations of capers, olives, sharp cheeses and more. So don't feel limited by the list of ingredients--have fun with it!
Bruschetta Recipe
Ingredients
1 thin loaf of bread, like a French baguette
5-6 Roma tomatoes*, roughly chopped
4 cloves of garlic, 3 minced, 1 cut in half
1/2 cup fresh basil, chopped**
Salt & pepper to taste
2 tablespoons balsamic vinegar or lemon juice (you choose!)
1/4 cup olive oil
Optional: mozzarella for topping
Directions
Heat oven to 400°
Cut your bread on the bias (aka diagonally) into ½ inch thick pieces.
Take one clove of garlic and cut it in half then rub each piece of bread with it.
Drizzle each piece of bread with olive oil then put them on a cookie sheet and bake until just golden brown. This will only take about 2-3 minutes then flip, wait another minute or 2 and remove.
In a medium bowl, toss together your chopped tomatoes, fresh basil, minced garlic, basamic or lemon juice and salt & pepper.
Spoon some topping on each piece of bread and serve!
Optional: Top each piece with some mozzarella and pop 'em back in the oven for just a few seconds for the cheese to melt. This will add extra gooey goodness!
*It's not necessary to refrigerate tomatoes, in fact it harms them. When tomatoes are stored at too cold of a temperature their insides turn pink and gushy, that's particularly annoying in this recipe where you want your tomatoes to hold together enough to stay on the bread without making it soggy.
**When you chop herbs only run your blade through them twice. Chop in one direction, then turn your cutting board 90° and chop once more. If you go over the herbs with your knife blade too many times all the fresh flavor will be left on your cutting surface and not in your dish.
Enjoy this Italian-come-international classic! Once you learn how to make bruschetta you'll never feel stressed about putting together some great, delicious finger foods for you guests ever again! The warm garlic crunchiness of the bread combines perfectly with the cool freshness of tomatoes and basil. It's simple and perfect!
---
---
---