Homemade Macaroni and Cheese Recipe
It's gotten to the point where I make this homemade macaroni and cheese recipe so much that restaurant version just don't cut it anymore. Seriously, I ordered macaroni and cheese at a pretty nice restaurant the other day and I was soooo disappointed.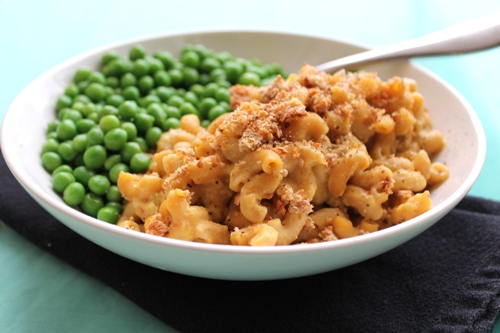 Before we get started, funny story about this particular homemade macaroni and cheese recipe. One time, my roommate/biffl and I invited her father and step-mom over for dinner. We had it all planned out. Twas to be a culinary adventure (and by adventure I mean modge podge various things, all tasty.) This macaroni and cheese was our main course -- I know, balanced meal, right?
So I thought I'd been around the cooking block a time or two and could handle most situations in the kitchen. But turns out I grew up with *one* kind of broiler and the house we were making this mac n' cheese in had the *other* kind of broiler. You know, the kind underneath the stove. I don't quite get how it works but to make a long story slightly less long, the macaroni and cheese that we had been planning on and working on all afternoon promptly caught on fire minutes after our guests arrived.
I lept over approximately 3 obstacles, jumped to the ceiling and dismounted our blaring fire detector as my roommate lept over 3 obstacles herself to quickly open all the windows in our house and thankfully her dad was the knight in shining armor to remove our prized homemade macaroni and cheese in just enough time.
We scraped off the burnt bread crumbs, replaced them with fresh ones and tried again. Take two was much more successful as we kept a constant eye on it. No repeat failures here. Though we were trying to impress our dinner guests with our cooking skills, we ended up impressing them more with our acrobatic coordination in attempts to prevent a visit from the fire department.
Oh well, homemade isn't homemade if you don't end up with stories like this every once in a while. Now I can truly say that this recipe has not only stood the test of time but also the test of disastrous events.
Make this macaroni and cheese recipe for yourself and you'll see why it's worth fighting fires for. Ahh, I'm practically drooling just thinking about it.
Ingredients
1 lb pasta (elbows and shells hold the cheesyness the best in my opinon)
8 ounces gruyere cheese, grated
8 ounces super sharp cheddar cheese, grated
5 T butter
5 T all-purpose flour
2 cups whole milk
2 cups cream
Totally optional ingredients: hot sauce and some diced green chiles if you like a kick
For topping: ¾ cup bread crumbs, 2 T butter (melted), salt and pepper
Directions
Boil pasta noodles according to package (~10 minutes), when done run under cold water to stop them from cooking further.
In a large pot, melt 5 T butter and add 5 T all-purpose flour, stir together and let it get toasty brown for about 2 minutes. Add milk, cream and chiles/hot sauce, if using. Bring to a boil, stirring the whole time then let simmer for 5 minutes until sauce thickens.
Take pot off of the heat and fold in both grated cheeses. Once incorporated, stir in the cooked pasta noodles. Make sure they're all nice and gooey. Turn on your broiler.
Pour cheesy noodles into a broiler safe casserole dish. Mix bread crumbs with the melted butter and sprinkle over as a topping. Season with salt and pepper. (I use a generous amount here.)
Broil until the bread crumbs are browned just 1 or 2 minutes but KEEP AN EYE ON IT! :)
There! You're done! And you have the most perfect homemade macaroni and cheese ever!
I tried many a versions of homemade macaroni and cheese recipes before I ended up with the winning one. This is perfectly proportioned with ooey-gooey cheese and crispy toppings. I've found that baking the whole dish as a means of cooking makes for over dry results so that's why I like this method better. I also think it's a lot easier. Just boil pasta, mix in cheese, broil, and voila! You're done. Barring any unfortunate flames along the way ;).
---
---
---