Green Pea Cilantro Pesto
Ah, routines. There is such a duality about routines. I like them. They keep me grounded and responsible. But then, just when things are going well, I feel this tickling notion like I need to break free from them. Change things up. Explore. Challenge. Reinvent.
Nothing pushed me to abandon the comfort of my routines like traveling abroad for 3 months. I learned some important lessons. Things that truly, I think, will help me to stay calmer in the face of this ever-changing life. 
But there were some simple things that I had to go without that I missed deep down. Things like talking to my parents, Evan's parents, our grandparents regularly. Or eating lots of vegetables. Or taking long, quiet walks.
Of course being in new countries was thrilling and wonderful and allowed me to try so many things I have never been exposed to before. Now that we're back in the states, I find myself both reveling in the enjoyment of things we missed, and yet also approaching things a bit differently. 
A funny thing those mind expanding activities are. You're scared. You do it anyway. You have the best time. You long for the way things used to be. And when you return you find that your old comfort zone doesn't fit you as perfectly as it used to. So you make a new comfort zone and live there for a while until the process starts all over again.
In the name of all this philosophizing about comfort and change, this green pea cilantro pesto made a fun change of pace from my standard salad lunch. It's also quite different from what you might think of as "pesto". In fact, without fresh basil, pine nuts or cheese I'm not 100% sure it qualifies but its green, saucey, herby, creamy goodness was so tasty I don't really mind what category it falls under.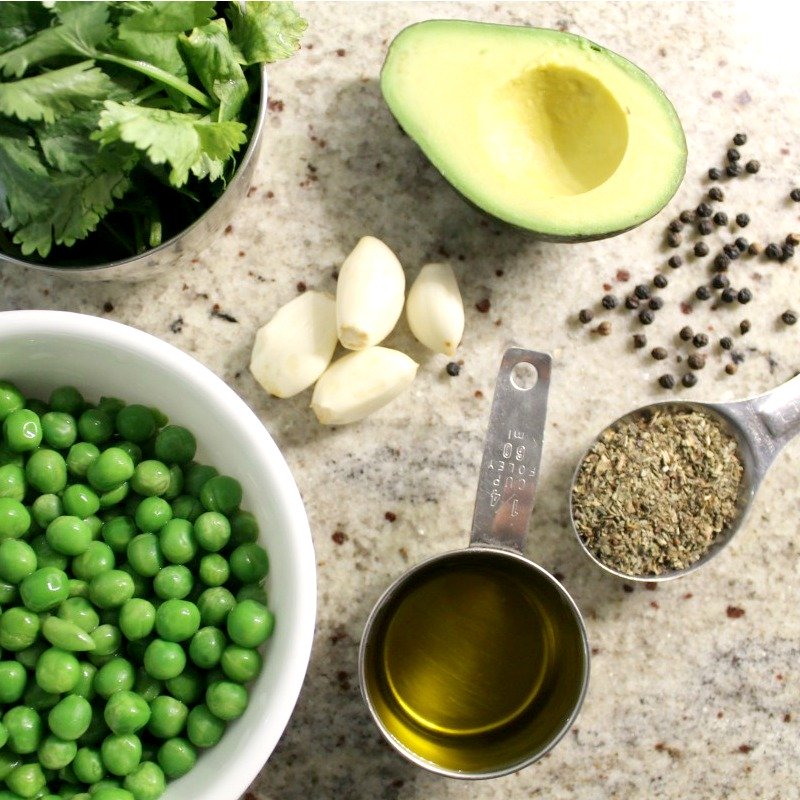 Green peas made the perfect backbone to this pesto. I am a fan of traditional basil pesto but unless you stumble on a basil plant taller than yourself, shamelessly taking over your garden then most of the time buying enough fresh basil at the store to make pesto isn't practical. 
Right now we're in the process of moving so I don't have my standard basil plants to rely on, so I set out to make a cheaper version. Cilantro is always available and pretty cheap. Frozen green peas are also easy on the budget, and I was able to whip up this delicious green pea cilantro pesto with ingredients already in the kitchen.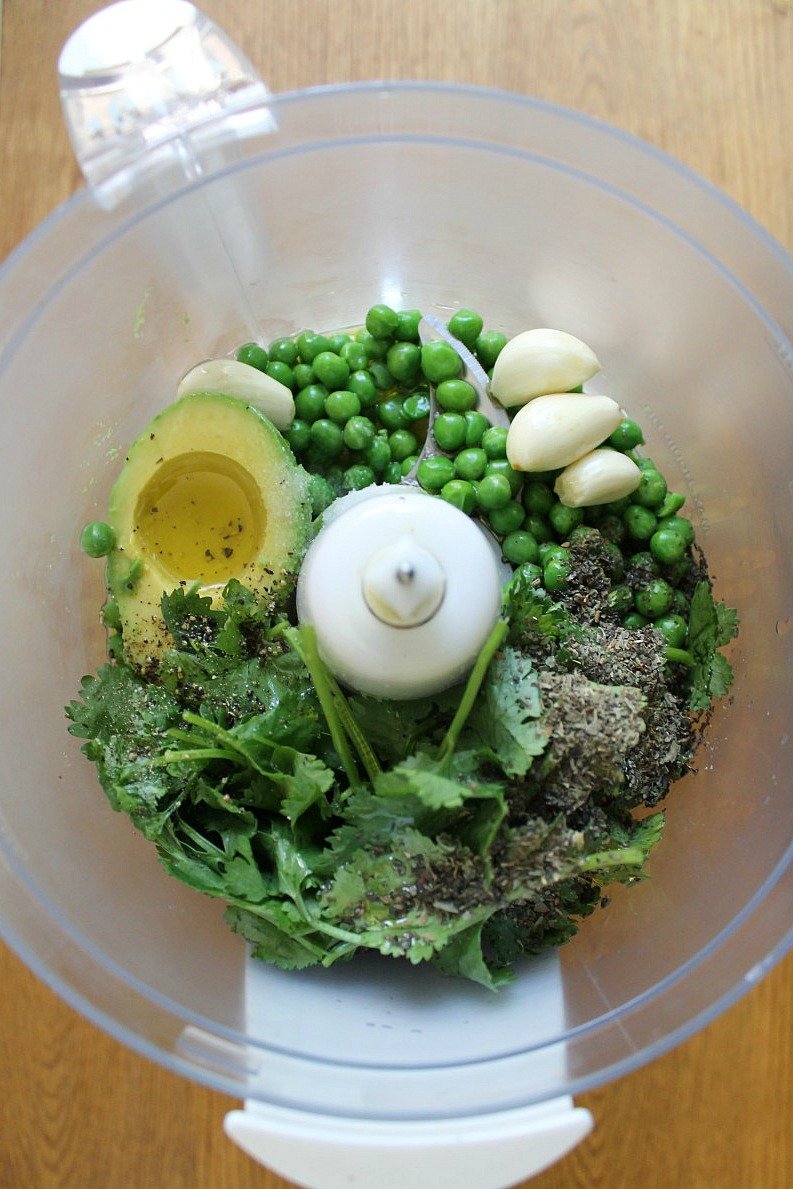 In fact making this has inspired me to get more creative with my snacks and lunches. It was as easy as blending up a smoothie, and there are so many uses for a delicious green sauce like this. Here, I spread it on some toasted pita with some tomatoes and thinly sliced shallots. It would also make a great pasta sauce, sandwich spread, pizza topping or vegetable/cracker dip. 
We had a little left over after our open-faced pesto pita wedges, so while we were prepping dinner we dipped some pumpernickel pretzels in it as an appetizer. Delicious. 
I love a versatile workhorse of a recipe. 
This spread tastes so fresh and perfect for spring and yet the ingredients are common enough you don't have to wait for warmer weather to be able to make it. 
It doesn't taste like traditional basil pesto, but if looking for a way to change up your routine then this is your guy. Especially if you're a cilantro fan.
How do you feel about routines? Do they keep you sane and organized or do they make your skin crawl from being too predictable? There's definitely a time and place for them in my opinion, but it's crucial for me to keep introducing new ideas so things don't get too stale.
---
Green Pea Cilantro Pesto
Yield: Makes about 2 cups.
Ingredients
1.5 cups frozen peas, thawed
1 cup cilantro
1/2 small avocado
1/4 cup olive oil
3-4 garlic cloves
1 Tbsp dried basil
salt & pepper, to taste
Directions
Add all ingredients to a food processor and process until pesto is creamy and cohesive.
Spread on bread or crackers, use as a dip, or as a pasta or pizza sauce.
---
---
---