Eggs and Beans
Eggs and beans are good together. It's like when your best friend finally starts dating someone you not only approve of but someone who you truly feel will complete her and push her to become a better version of herself.
That's how I feel when eggs and beans get together on my plate (and in my belly). Certainly, they're each wonderful in their own right. Each of them has some important nutritional qualities to bring to the relationship but together. Whew. Together it's great. Especially for vegetarians.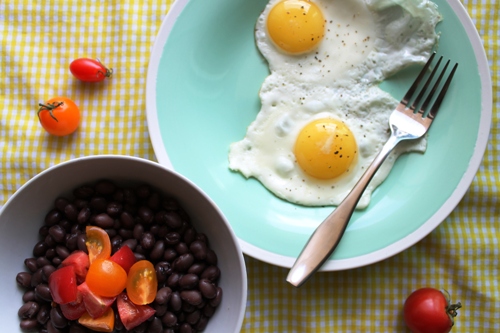 If you aren't a vegan, it's probably a wise idea to eat some eggs every now and again. Actually more often than not. Eggs provide some pretty important little tidbits for our bodies. Tidbits that are harder to get in other forms of vegetarian protein. Eggs have choline, which works for your brains' health. They also have some all-important B-vitamins, vitamin D and obviously some pretty great protein.
Beans resume isn't too shabby itself. Beans also provide some great complex carbohydrates, proteins and oodles of fiber. Depending on the variety you choose, they can also come with antioxidants and other health-promoting compounds but whichever kind ends up on your plate you'll be happier and healthier for it.
If you've been feeling a little sluggish lately, or maybe you don't always pay attention to getting the right sorts of things in your body, eating a meal of eggs and beans can really help you out. It'll provide the nutrient boost you need, lots of protein to get you going and their tastes and textures complement one another.
This is a super simple meal you can prepare in 5 minutes. Play with this combination. You can do almost anything anyway you want with these two ingredients. Here's what I do, which takes only a couple minutes, minimal fussing around the kitchen but maximum health benefits. You end up with a healthy easy vegetarian meal that will keep you full for hours.
Here's what you'll need and what you need to do.
Ingredients
1 or 2 eggs
canola oil
1 can (or pre-prepared) of beans, I used black
salsa of your choosing
handful of spinach (fresh or frozen)
salt and pepper
optional: avocado or guacamole
Directions
Rinse and drain your beans, transfer to a microwave safe bowl. Pour on a couple spoonfuls of salsa. Set aside. Microwave for 1 minute.
Fry egg(s) to your liking. In a skillet, heat up the canola oil, crack your egg over it once the pan is hot. Watch it sizzle, turn heat down. When egg whites have solidified, flip over. Let cook for another 1-2 minutes.
In another bowl put a handful or two of spinach. Microwave it for ~45 seconds.
Pour the beans over the spinach, place fried egg on top. Sprinkle with salt and pepper. Add a dollop of guacamole if you wish. Dig in!
This eggs and beans recipe really a simple meal you can make in the mornings (or anytime). Once you get it down it seriously only takes a few minutes and it will keep you full until lunch. It's a simple but flavorful, slow carb, easy vegetarian meal you can make over and over again. Enjoy!
---
---
---