Edamame Recipe
Ready for another super simple meal? This edamame recipe is a great one to have in your bag of tricks. You can eat it by itself for a light lunch or as a side at dinner. Use it as a topping for salads or even tacos.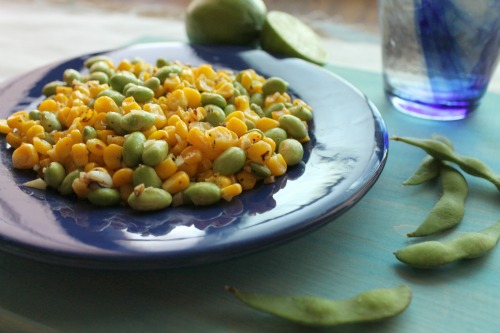 I know there is some controversy over soy and its effects on your health. I try to not make tofu and soy products a staple of my vegetarian diet but I do eat them on occasion. Plus, eating the whole soy bean in its unprocessed state is probably your safest bet.
This edamame recipe is paired with corn kernals for a more well-rounded nutrient balance. You get the protein you need from the soybeans and the complex carbohydrates from the corn.
I try to be judicious about what I buy organic because I can't afford it all, but both corn and soybeans are high on my list. It's fine to buy both of these frozen as long as they are marked organic and that might keep the cost down. That being said, neither of these ingredients is very pricey to begin with so not only is this an easy vegetarian recipe, it's a cheap one too.
This idea came to me from one of my friends who made it for a quick dinner on a weekday night. She said it's so simple but so tasty! I hope you agree!
Edamame Recipe
Ingredients
1 cup shelled edamame, either hand shelled or bought frozen shelled and thawed
1 cup corn kernals, either taken of the cobb fresh or bought frozen and thawed
Olive oil
2 cloves garlic, minced
1 tablespoon fresh lime juice
salt and pepper
Directions
Put skillet over med-high heat and let it get hot for a few minutes. Drizzle a generous portion of olive oil to coat the bottom then fry the minced garlic for a minute or two.
Add the edamame and corn and let brown for several minutes. When they are hot and brown looking, sprinkle with salt and pepper, toss in the lime juice and serve!
The browning of the soybeans and the corn makes them slightly sweet by bringing out and carmelizing the natural sugars and it also gives them that extra crunch and complexity of flavor.
You really don't need to add anything else but if you wanted to, there are so many things you can do with this simple salad. You can eat it warm on it's own, serve it chilled as a side salad, top it on a bed of greens, add it to tacos, eat with warm pita... really the list is endless.
Also, feel free to mix in other great healthy veggies like cherry tomatoes, shallots or avocado. It really is so easy and also very versatile so have fun with it!
---
---
---