Cranberry Coconut Granola
Because I normally have a smoothie for breakfast, cereal of any sort doesn't play a big role in my morning routine. When I do crave granola, however, it's usually in the evening for dessert (or once in a blue moon, for dinner, hehe). Even though I use it to satisfy my sweet tooth, granola is too often overly sweet for me. 
I appreciate granola that has crunchy golden oats, a slight sweetness, and some interesting mix-ins that pull their weight in contributing to the overall flavor. This tart, just-sweet-enough cranberry coconut granola does just that.
For most of my life cranberries only wound up on my plate during Thanksgiving time, but now I find myself gravitating to them more and more. I like them in cocktails. I like them in smoothies. I like them in muffins and pies. And even though I like them more now than ever, I just can't get behind dried cranberries. And that's because like most store-bought granolas, store-bought dried cranberries are too sweet. 
For the life of me I cannot find dried cranberries without added sugar. I feel like that removes the entire point of these beautiful, sour berries, so this recipe starts out with whole, frozen cranberries, rather than tossing in a handful of dried ones at the end.
I like the tartness, especially when it's balanced out by other flavors. Toasted coconut has a natural sweetness to it is, as do oats. Throw in some supporting characters like vanilla and cinnamon, then especially if you top it all off with some inevitably sorta sweet vegan milk, the sour cranberries are balanced and fit perfectly. 
Granola is one of those things that fills your kitchen with that wonderful homemade-baked-good smell. Cinnamon and vanilla have a way of doing that. It's comforting no matter what else is going on and makes just as good an ice cream topping as it does a Sunday breakfast bowl or midnight snack.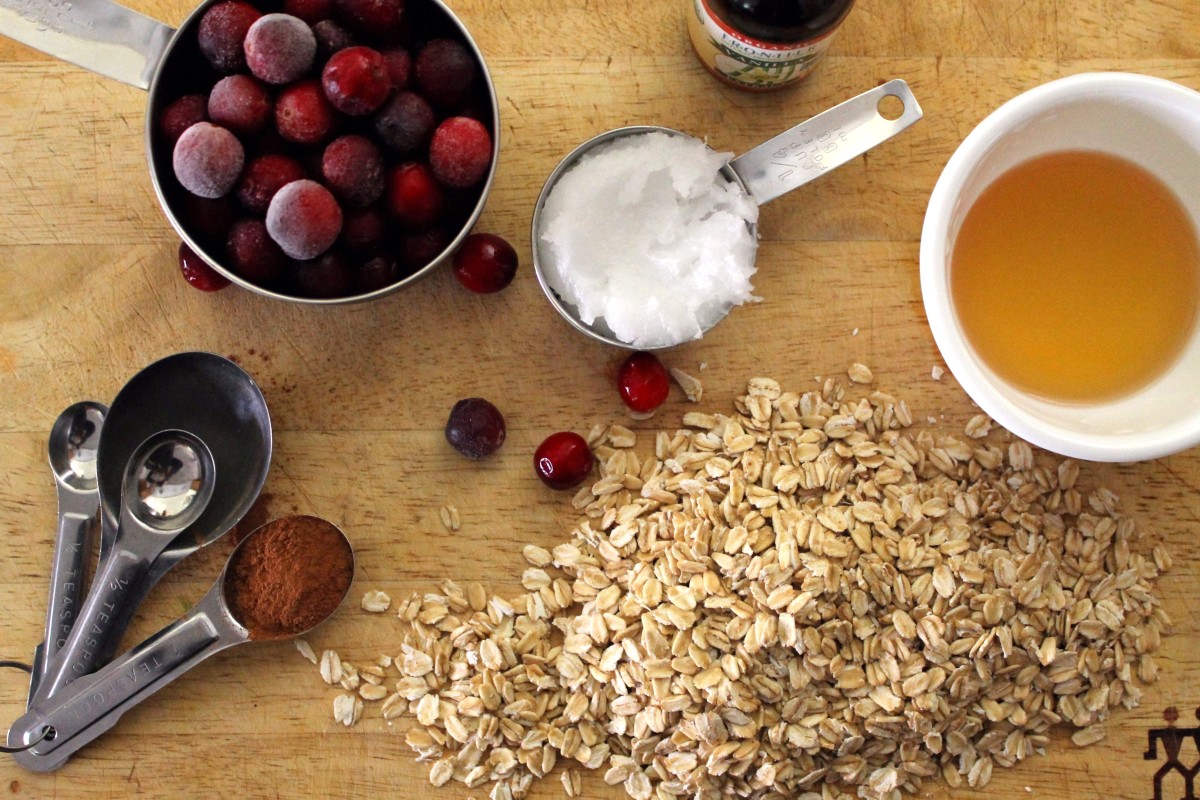 Start out with some basic granola ingredients: oats, cinnamon, maple syrup, vanilla and coconut oil. I used frozen, whole cranberries for this recipe since the fresh ones are hard to find unless it's November.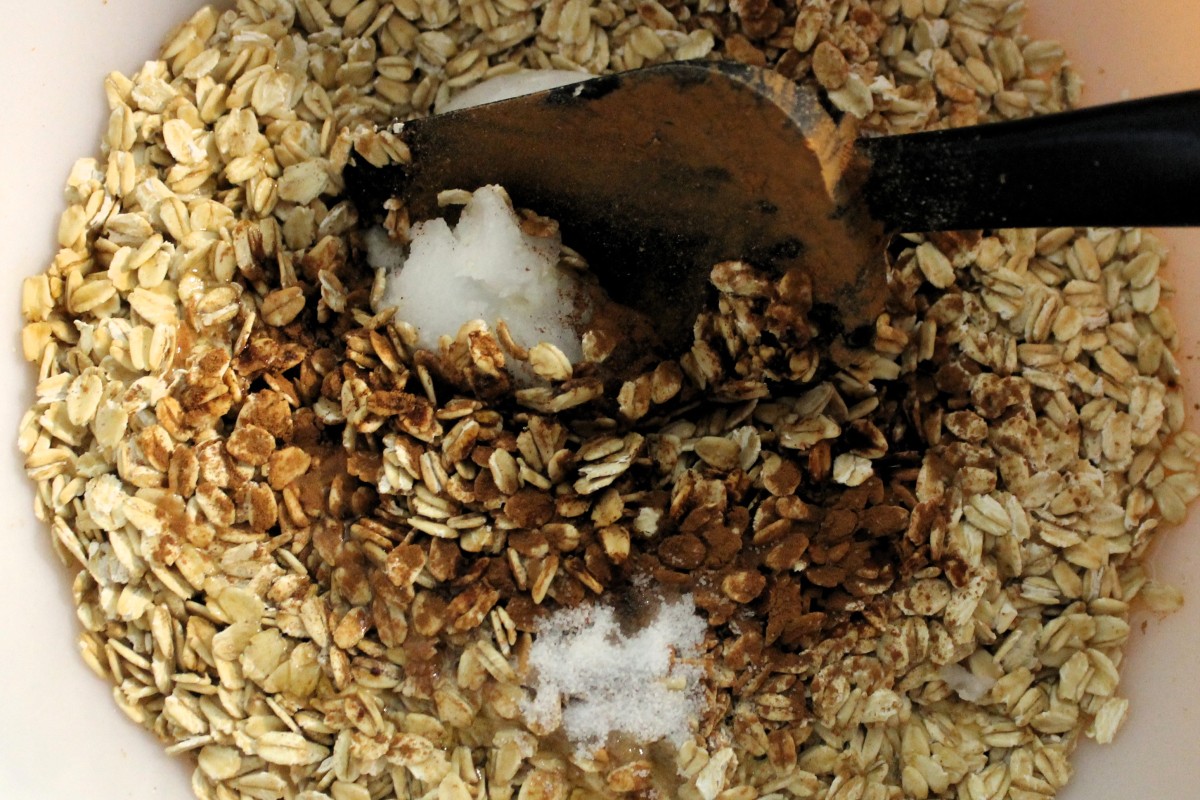 Mix all the ingredients together in a bowl along with a pinch of salt until it's all cohesive. You'll need the coconut oil to be soft in order to coat everything evenly so if yours solidified just heat it on the stove or in the microwave for a bit.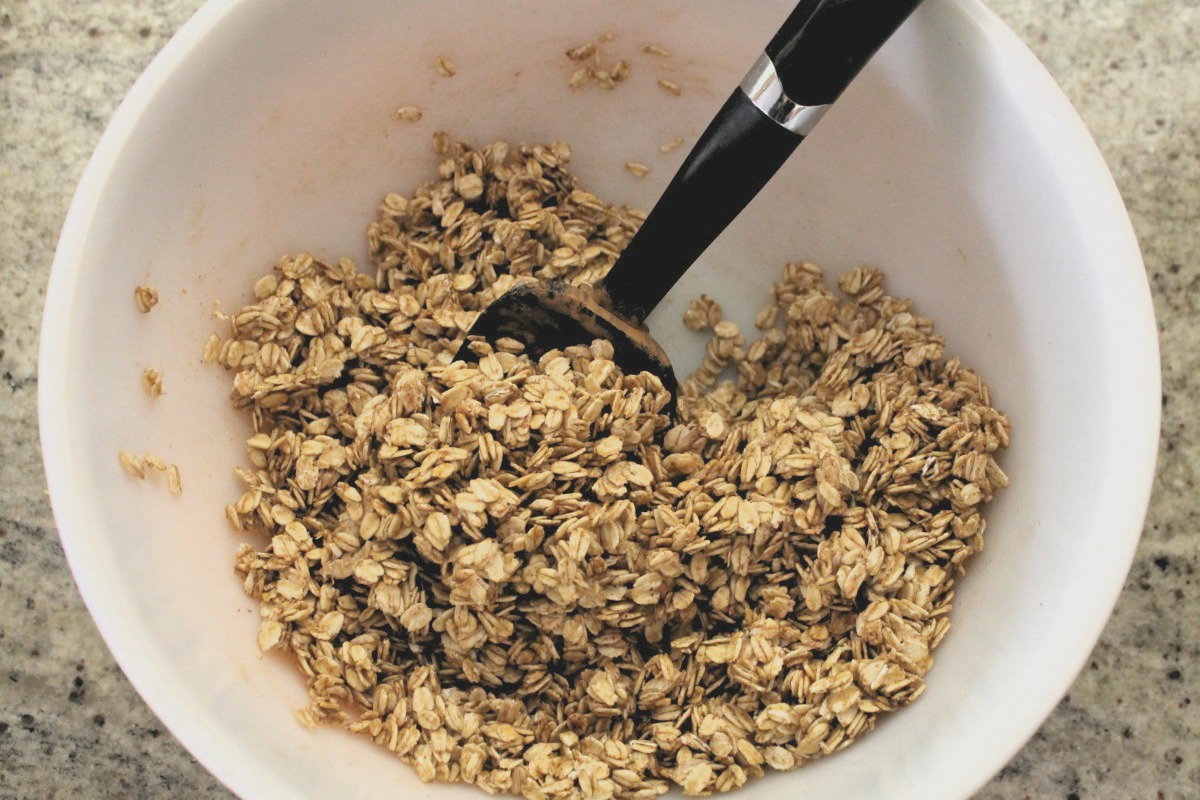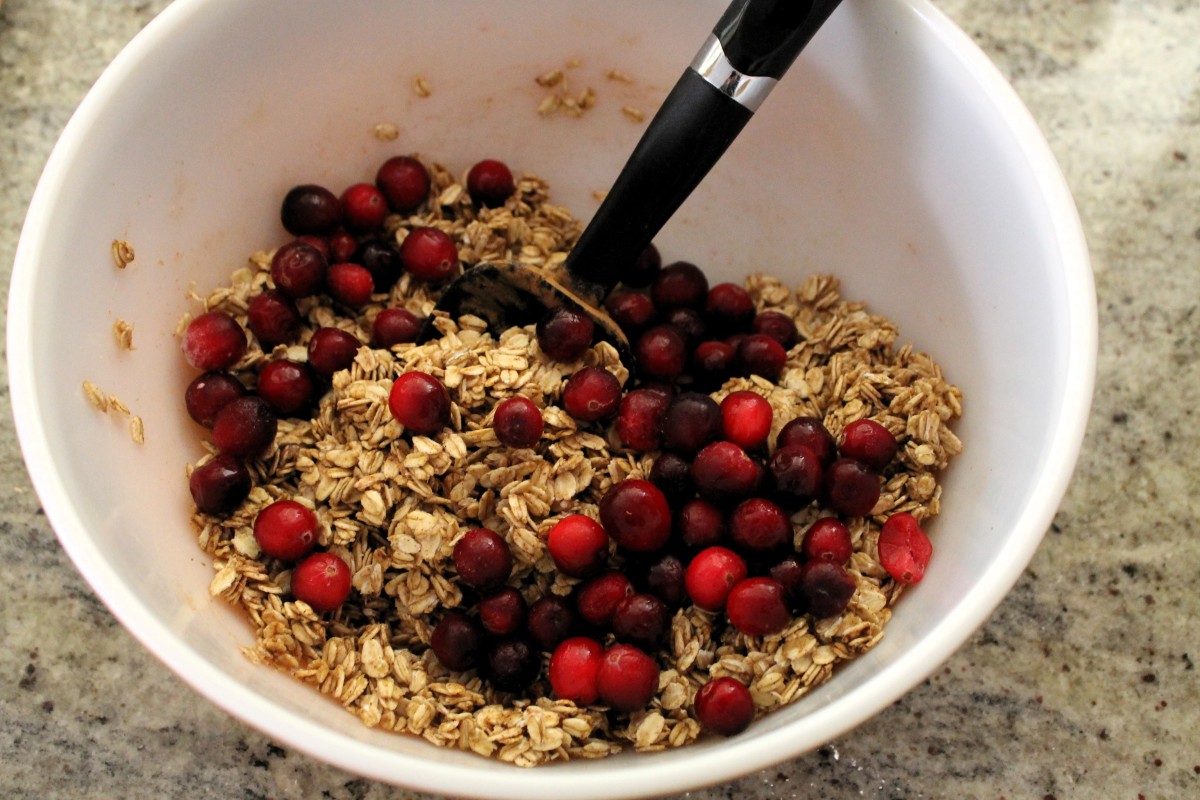 Fold in the cranberries. I didn't worry too much about them getting totally thawed but they were sitting on the counter long enough that they were probably half-way there by the time I threw them in.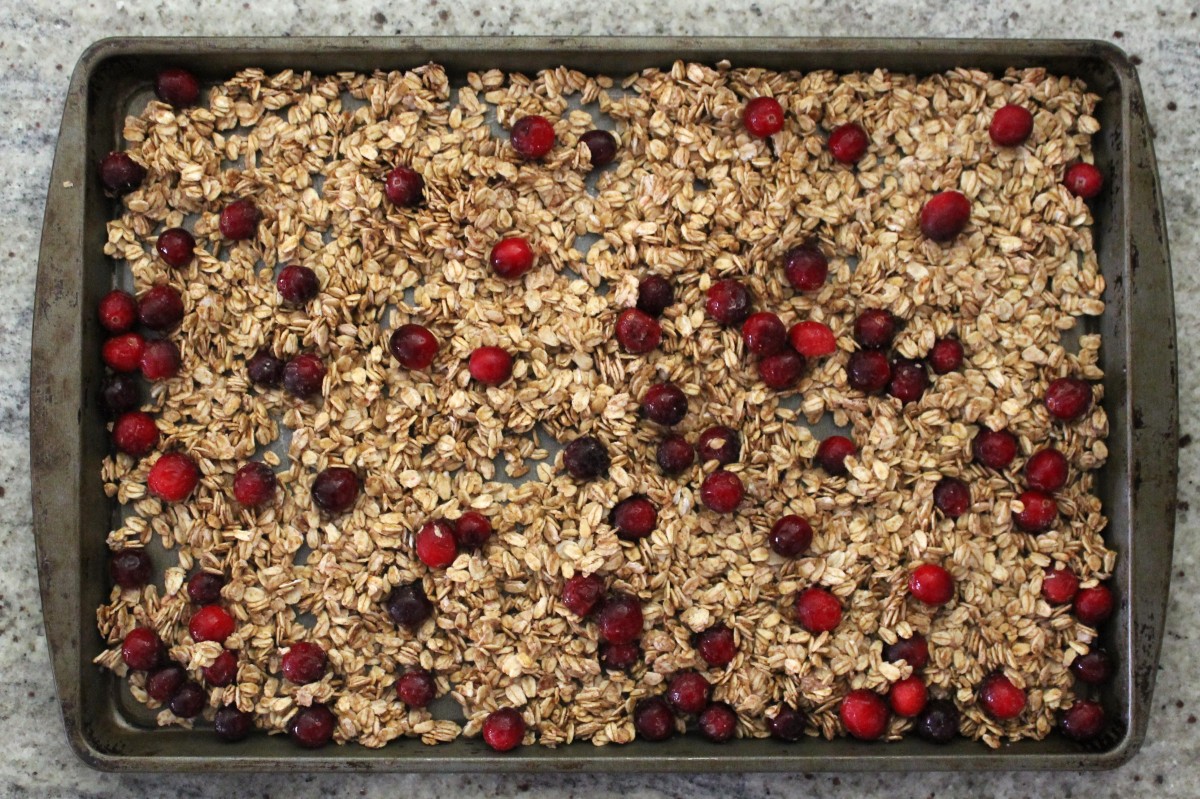 Spread the mixture evenly on a greased cookie sheet, aiming for a single layer of oats and evenly distributed cranberries. Then pop it in a preheated 350° oven on the middle rack for 15 minutes.
While the granola is baking, it's time to get all toasty with these gorgeous large coconut flakes. I think the wider flakes work much better than shredded here. It means they will be able to hold their own at the end.
Add them to a dry skillet on medium heat. I used a non-stick one but I've used stainless steel before with just as much success. Watch it carefully as it browns quickly. Just keep stirring pretty regularly and when they look golden with toasted edges and you can smell that distinct coconut aroma, remove the pan from the heat and set aside.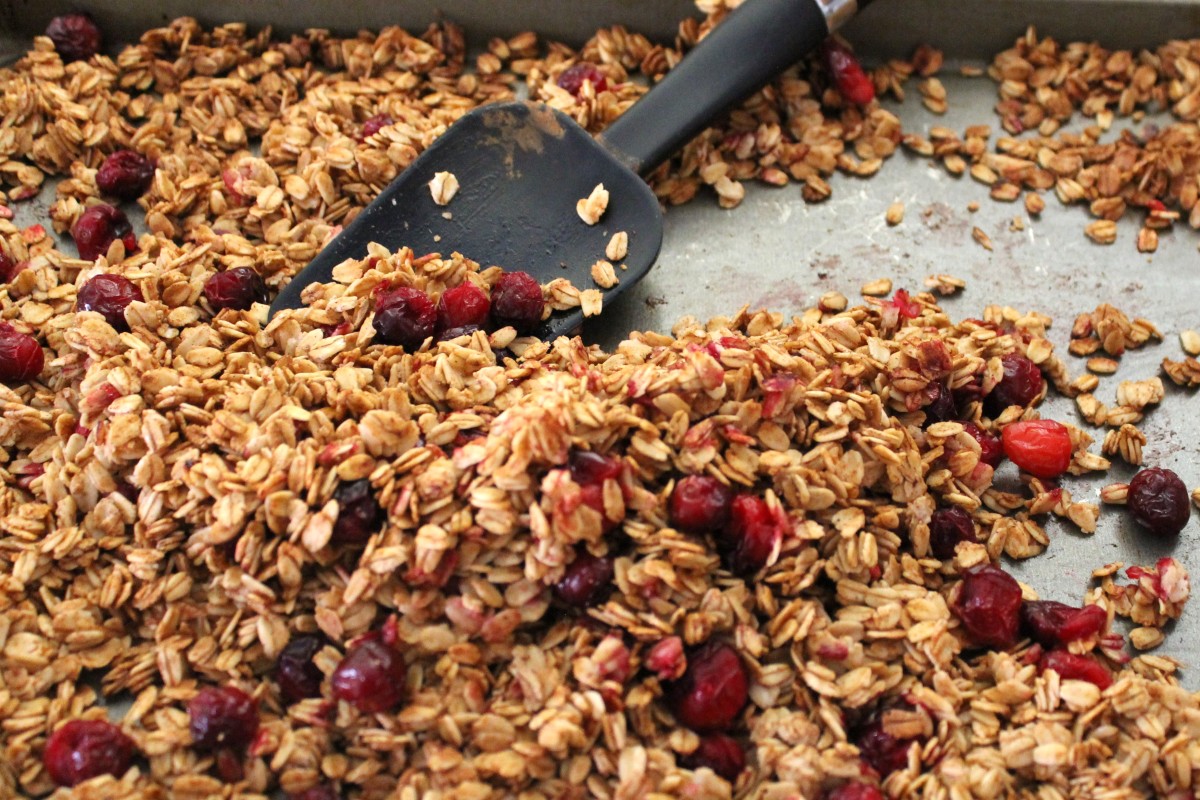 After the granola has baked for 15 minutes, take it out to stir it around. Redistribute it into an even layer and return the pan to the oven for another 10-12 minutes or so. Remove when the oats are golden brown and the cranberries are popped. Depending on your oven and how thickly the oats were cut, this time can vary significantly so keep an eye on it during the last 5 minutes. (Not that I'm speaking from the experience of burning granola or anything...)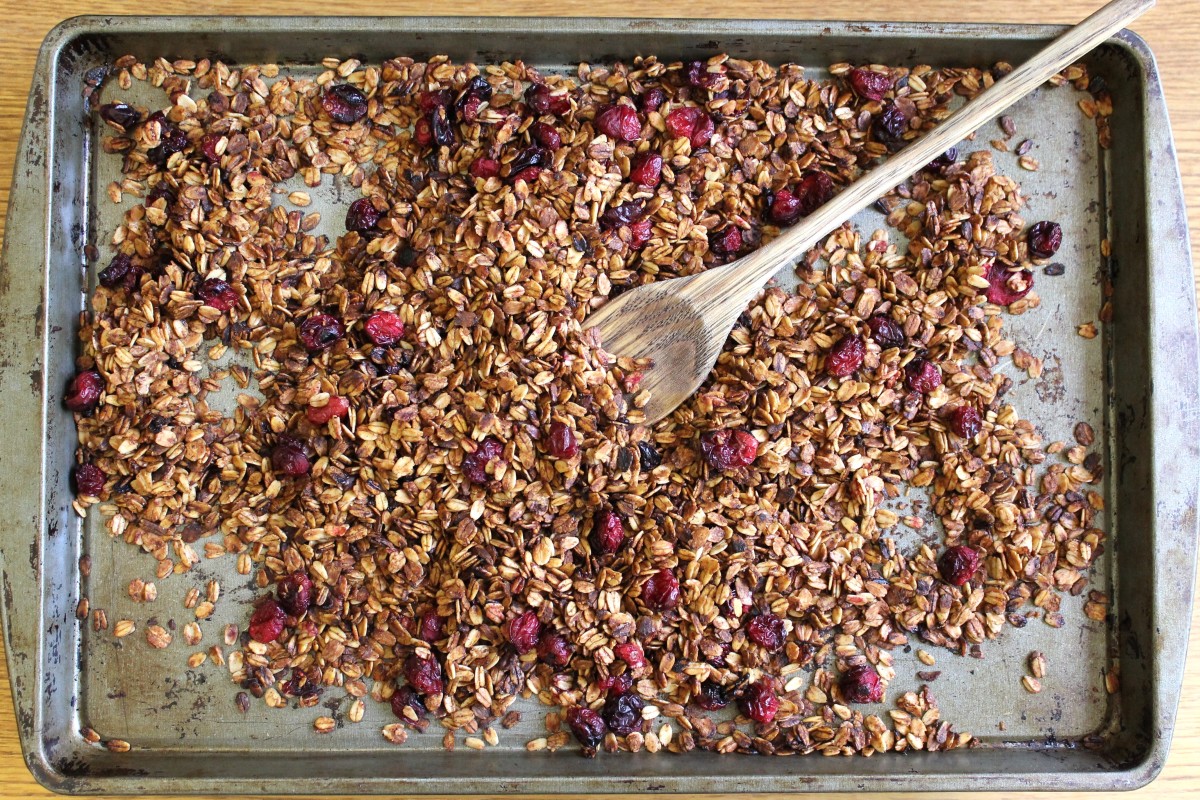 Granola gets crunchier as it cools so let it rest for 10-20 minutes until it comes to room temperature. After that, fold in the toasted coconut flakes and you're ready to rock and roll.

Evan said that this granola could be made even better by throwing a some chocolate chips in. I'm pretty certain that he would say that about most things. I do think he's on to something though. If you added some chocolate chips and almonds this would make a great trail mix for a hike. 
I didn't realize there were so many ways to eat granola! How do you like it? Does anyone else eat it for a post-dinner treat...or is that just me? ;)
---
Cranberry Coconut Granola
Yield: Makes 5 cups or about 6 servings.
Ingredients
2.5 cups oats (old fashioned oats, not quick oats)
1 cup whole cranberries, frozen is fine
1 cup large coconut flakes
1/4 cup coconut oil, softened
3 Tbsp maple syrup
1 tsp cinnamon
1 tsp vanilla extract
pinch of salt
Directions
Add oats, softened coconut oil, maple syrup, cinnamon, vanilla extract and salt to a large bowl. Mix until everything is combined and oats are coated evenly. Then fold in cranberries.
Spread oat mixture onto a greased or lined cookie sheet. Create one even layer of oats and distribute the cranberries evenly. Place onto middle rack of a 

350

° oven for 15 minutes.
While oats are baking, add coconut flakes to a dry skillet on medium heat. Stir regularly and watch for the edges to brown and for a coconut aroma to be released. Once they are golden and toasty, remove pan from heat and set aside.
After 15 minutes in the oven, remove oats, stir, then spread into an even layer again. Return cookie sheet to oven for another 10-12 minutes, or so. Watch carefully the last 5 minutes so the oats do not burn. Remove once they are golden and the cranberries have popped.
Allow to cool for 20 minutes so the granola can get crispier. Once it has cooled, fold in the toasted coconut flakes and it is ready to serve. 
---
---
---