Breakfast Smoothie Recipe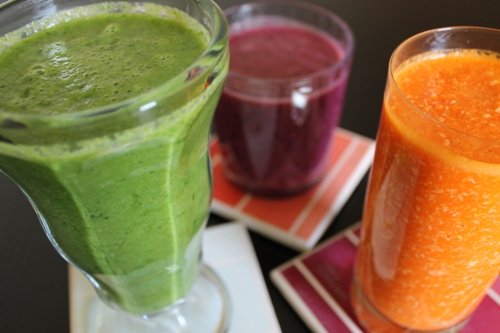 The best breakfast smoothie recipes are the ones that will fill up your nutritional fuel tank and keep you going throughout the morning.
Lately I've been making a green smoothie nearly everyday. I can't even begin to tell you how wonderful it makes me feel. I personally try to keep my ratio vegetables to fruits higher on the veggie side. This ensures I get lots of the good stuff without a sugar spike.
Fruits do contribute nutritionally, but too many of them in a smoothie can rack up the calories and cause a sugar crash later on. If you're attached to sweet smoothies, include 1 or 2 fruits and then you can adjust from there.
So making blended drinks really isn't rocket science; you basically throw a bunch of tasty ingredients into a blender and the result is one mighty fine tasty concoction that makes you glow.
There is a bit of an art for gauging the right proportions of ingredients in order to get the best consistency and flavor in the end. (And for preventing that ever-frustrating blender scenario where the stuff just sits there, not blending, grrr.)
Here is a simple formula to help you get started, and after a while you'll be able to create your own breakfast smoothies with ease!
Smoothie Formula
liquid+ creamy + flavorful + veggie or 2 (optional, but not really) + ice (optional) = delicious smoothie
---
Green Machine Smoothie
Ingredients
1 cup unsweetened almond milk
1 pear
3 large handfuls of spinach
½ a cucumber
½ a lime
Purple Goddess Smoothie
Ingredients
1 cup of unsweetened coconut milk
1 medium banana
1 cup of frozen blueberries
2 handfuls of purple kale leaves (tough stems removed)
Orange You Glad Smoothie
Ingredients
1 cup of orange juice
2 carrots
½ cup unsweetened coconut flakes
½ cup yogurt
Directions for All Smoothies
Start by pouring your liquid into the blender. Add the creamy ingredient (banana, yogurt, avocado, pear, etc.) and give it a whiz.
Chop any tough veggies/fruits like carrots and apples into roughly 1" pieces. Plop those in there and give it a whirl.
Then add in your final ingredients, spinach or kale leaves, frozen berries, whatever you have left. Push them down until submerged with a spatula or spoon. You might need to top off with a couple ounces of water to help it along. Then blend it all, baby!
Once it's smooth and beautiful, enjoy!!
Tips:
If you want it more liquidy like juice, add more water.
You can pour it over ice or blend the ice in there.
Sometimes with frozen berries, ice is unnecessary.
Try decreasing your sweet ingredients over time - you might be surprised how a little goes a long way!
Be adventerous: try adding in some cocoa powder, cinnamon, oats, raw ginger, even some jalapeno! Of course, not all at once :)
---
Creamy Ingredients

Flavorful Ingredients

Almost anything works in a smoothie.
Here are some common examples:

berries
mangos
kiwis
pineapples
cherries
peaches
apples
oranges
lemons
limes
coconut flakes

Liquid

Ingredients
coconut milk
almond milk
hemp/flax/rice/cow/soy or any other kind of milk
coconut water
aloe water
orange juice
other fruit juices
Vegetables
This is a perfect way to sneak in extra veggies into your day!
Spinach
Carrots
Kale
Ginger
Cucumber
Celery
Romaine lettuce
Arugula
Beets
There are so many possibilities so get a little creative! Make your own breakfast smoothie recipes just by seeing what you have in the fridge and following the basic formula. If it's too thick you can always add a little water or extra juice, and if it's too runny just add extra fruit or ice!
This really is an awesome way to start your day, or a better alternative to caffeine for an afternoon pick-me-up!
---
You might also enjoy:
---
---
---