Breakfast on the Go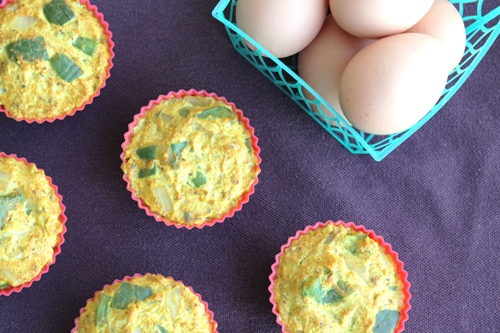 Wouldn't it be great if you could grab your breakfast on the go and still know that it's healthy? Avoid the fast food drive-thru lines and opt for egg cupcakes instead. You make these beauties in a cupcake tin and they turn out like little portable omelets.
The Benefits of Thinking Ahead
If you prepare these Sunday night all your worries and stress will be gone on weekday mornings. Okay, well not all of it, but these will be a lifesaver for you. They are the perfect breakfast (or a snack) to grab on your way out the door and because they're chock-full of protein and veggies you won't be grumbling an hour and half later by the vending machine at work.
Breakfast on the Go Recipe
Ingredients
8 eggs
1 cup cheddar, swiss, or parmesan cheese (less is okay too)
Use 2-3 cups of any vegetables you want (I used onions and green peppers)
3 tablespoons olive oil
Whatever spices you like in your omelets (examples: oregano, garlic, salt, pepper, paprika, cumin, salsa, thyme, rosemary, etc.)
Directions
Preheat oven to 350°
You can either steam or saute the vegetables. They just need to be cooked about half-way, long enough for most of their water to evaporate. (I've even microwaved them before when I was in a real time pinch.)
Transfer vegetables to mixing bowl, add your spices and cheese and stir.
In lightly greased or lined cupcake tin, fill each one half way full with the vegetable mixture.
In bowl beat all 8 eggs with olive oil and pour over vegetables in the cupcake tin until full.
Bake in oven for 25 minutes until a toothpick inserted into the middle of a cupcake comes out clean.
Either serve hot or let cool after baking before putting them in the fridge to keep for the week.
With these egg cupcakes you'll be prepared for anything. Next time you need breakfast on the go this recipe will save you. They are way better (and better for you) than a box of stale pop tarts or muffins. Heck! Your morning will be transformed into something worth getting out of bed for!
---
You might also enjoy:
---
---
---