Black Bean Salsa Recipe
This black bean salsa recipe is straight out of my childhood. I remember anytime we had a big family get together or lots of friends over for a summertime party, my Mom always whipped up a batch. It's the perfect blend of fresh seasonal veggies that are super healthful, loaded with protein from the black beans and a snap to make. Oh and since it doesn't require any cooking that means you and your kitchen can stay cool even during the hottest months.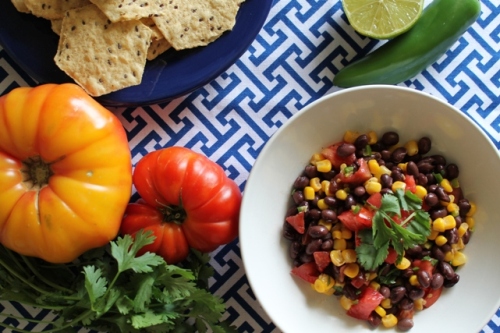 Because beans are such a cheap ingredient (especially if making them from their dried state) this black bean salsa recipe also turns out to be super budget friendly. Whether you're having tons of people over or just trying to satisfy all the summertime munching time in the sun induces, this recipe will come to your rescue.
Mix the ingredients ahead of time and pop them in the fridge for at least several hours, preferably overnight, before serving. That way all the flavors merge together to taste more like a cohesive salsa and less like the individual players.
I have such fond memories of coming home from a long day at the pool, saying "Mom, I'm starrrrrrving" (sound familiar?) and then being totally content once she gave us a big bowl of this black bean salsa and some crispy tortillas chips.
You can serve it with chips, or as as topping in tacos, on a salad or even mixed into scrambled eggs. Whatever you do make a big old batch because this stuff is addictive and you're sure to find many uses for it.
Black Bean Salsa Recipe
Ingredients
4 cups (or 2 16 oz. cans) black beans, rinsed thoroughly
4 ears fresh corn (or 1 small frozen bag)
4 medium size tomatoes (or 1 28 oz. can, diced, drained)
½ red onion, diced (or 1 whole small one; I don't know why but the ones I buy always tend to be huge!)
juice from ½ a lime
½ cup chopped fresh cilantro
Optional: 1 jalapeno, diced super fine (so no one gets a big chunk causing their mouth to catch fire)
salt and pepper to taste
Directions
Wash, chop and dice all veggies. Remove kernels from corn cobs (You can do this easily by standing the corn cob upright and running a serrated knife down the side. You may have to separate some of the kernels with your hands after doing so.)
Mix all ingredients in a large bowl, stir and let sit in fridge for at least several hours. This will allow the flavors to bind together. Then serve! Yup...it's that simple :)
---
---
---