15 Bean Soup Recipe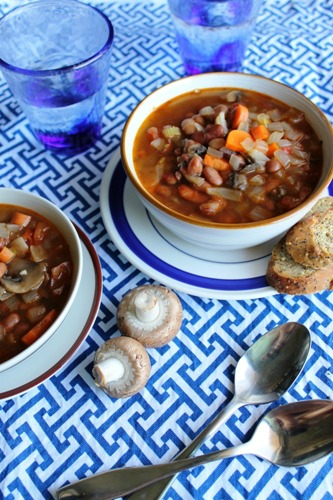 This 15 bean soup recipe is yet another one of my attempts to turn a classic soup that traditionally uses a ham bone and chicken broth into a delicious vegetarian (vegan, even!) version. With my family telling me "This is your best soup yet!" I think it was a success.
This recipe still has all those great benefits of most soups: you can make it in bulk and ahead of time, freezing some and storing some for the rest of the week. It's uber-healthy with all those legumes and vegetables, and it makes for the perfect quick, filling meal you crave when things get busy.
I made my 15 bean soup recipe the week before Christmas and let me tell you, it was just what we needed to have on hand as everyone was running around with packages, last minute work assignments and family craziness. Being able to sit down to a warm meal together this time of year is the breath of fresh air you need to avoid the insanity of the season.
Ingredients
20 oz. package dried 15 beans
1 red onion, diced
1 white onion, diced
8 oz. package button mushrooms, sliced thinly
Olive oil
1 quart vegetable broth
3 celery stocks, chopped
3 carrots, chopped
14.5 oz. can diced tomatoes
4 cloves garlic, minced
1 chipotle pepper in adobo sauce, chopped plus ½ tablespoon of adobo sauce
½ tablespoon of: dried sage, ground white pepper
1 teaspoon of: chili powder, black pepper, salt
Directions
Unless you had the forethought to soak your beans overnight (a rare occurrence for me) follow the instructions on the back of the bag for the quick cook method. Usually this just means boiling the beans in water for about an hour. Keep checking on it and add more water if it's getting too low. When they are soft and done, strain in a colander and rinse thoroughly.
Put a large soup pot over med-high heat for a few minutes. Add enough olive oil to coat bottom then saute both diced onions and the sliced mushrooms. Toss everything to make sure they are coated in oil then let them sit for about 15minutes, only stirring occaisionally along the way.
After your onions and mushrooms have caramelized to a medium brown color, deglaze the pan with a little vegetable broth, scraping the sticking bits from the bottom of the pan. Pour in the rest of the broth, can of tomatoes, chopped carrot, celery, chipotle pepper, adobo sauce and all spices. Stir until incorporated. Bring to a boil and let simmer for about 40 minutes.
I hope this 15 bean soup recipe is one more thing keeping your belly warm this winter!
---
---
---